Koffee With Karan: Did Deepika Padukone influence Ranveer Singh to tone down his fashion choices? Read
Ranveer Singh, a fashion icon, aims to be remembered for his acting, not flamboyant fashion, according to his Koffee with Karan interview. Deepika Padukone advised subtlety, and Sanjay Leela Bhansali endorsed the change. He seeks recognition for his talent, not just his unique style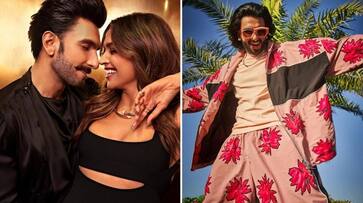 Ranveer Singh, known for his extravagant and bold fashion choices, recently appeared on Koffee with Karan Season 8 with his wife, Deepika Padukone. Despite his reputation as a fashion maverick, Ranveer expressed his desire to be remembered for his acting rather than his flamboyant style. During the show, Karan Johar, the host, asked Ranveer if there were times when he felt the need to tone down his fashion choices to reshape his public image.
Ranveer acknowledged that he values the opinions of others but ultimately does what feels right to him. He stated that he wanted people to focus on his acting rather than his clothing choices, saying, "I want you to talk about me. I was hoping people would get past what I was wearing."
Interestingly, it was Deepika Padukone who offered Ranveer an insightful perspective. She pointed out that despite his outward confidence, he appeared underconfident and suggested that he should stop distracting people from his true self with flashy clothes. This advice resonated with Ranveer and prompted him to consider toning down his fashion choices.
Sanjay Leela Bhansali, a renowned filmmaker who has collaborated with Ranveer Singh on various projects, also encouraged the actor to opt for subtler fashion choices. Bhansali praised Ranveer's monochrome outfit during one of their meetings, noting that it highlighted his face. He advised Ranveer to continue with this style and was also the one to suggest keeping facial hair, which has become one of the actor's signature looks.
ALSO READ:Koffee With Karan 8: Karan Johar reveals about his 'anxiety attack' at NMACC launch
Ranveer Singh shared that he once searched for himself on the internet and discovered a Wikipedia page that described him as one of the highest-paid and most acclaimed actors, known for his flamboyant fashion. However, he expressed his desire to avoid having his fashion choices define him and instead be recognized for his acting prowess.
Last Updated Oct 26, 2023, 12:21 PM IST