Spare: Prince Harry spills beans on his Uncle Prince Andrew's awkward sex scandal in his explosive memoir book
Prince Harry says that despite a sexual assault case against Prince Andrew, he did not get stripped and removed from his royal security, unlike the Duke and Duchess of Sussex.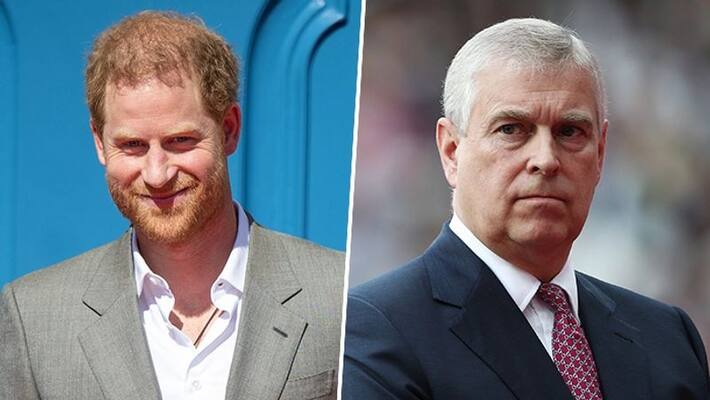 The royal family in Buckingham Palace in the UK is still reeling from the destroying big revelations and their lies which got brutally exposed by the former royal couple Prince Harry and Meghan in their explosive and hit Netflix docuseries, Harry & Meghan. Now, they will brace themselves again as Prince Harry has turned into an author with a fierce and explosive memoir titled Spare. 
In this memoir, Prince Harry has spilled several unknown details with the real side of the story related to his uncle Prince Andrew's sexual assault allegations. Spare will hit the shelves on Tuesday, January 10th. Spare, the memoir is yet to debut elsewhere globally in the entire world. The former royal is already making waves by making way to headlines again. Recently, a few passages with startling declarations and bold statements are already making viral headlines as the memoir was released in Spain last week.
ALSO READ: Golden Globes Awards 2023: From RRR to Avatar: The Way Of Water, a glance at the films nominated
Prince Harry has shared only facts about how his brother Prince William physically hit him even after being royal. He also revealed that his father, the newly crowned King Charles III, would joke about his parentage. The 38-year-old Duke of Sussex, is letting the world get a more in-depth glance into his life and relations with the royal family.
According to a leading entertainment portal, Prince Harry has shared some never heard before details regarding his uncle Prince Andrew's embarrassing sex scandal. For the uninformed, Prince Andrew has sexual assault allegations against him linked to the late humiliated criminal Jeffrey Epstein and convicted criminal Ghislaine Maxwell.
Prince Andrew was not removed and stripped of security despite his sex scandal:
According to an English translation of the Spanish version of Spare, Harry has shared the complete truth about his uncle Prince Andrew's infamous sex scandal. He unearthed many backstories related to the same. Harry shedding more light, has shared, "Despite being involved in an embarrassing scandal, accused of abusing a young woman sexually, nobody had suggested removing his security. People may have a lot of grievances towards us. But, sexual offenses were not one of them."
Harry furthermore said he had never imagined about their protection taken away from them. All because of the current climate of hatred. He also added that he did not think the Duke and Duchess of Sussex would lose their security because of what happened with his mother, the late Princess Diana, who died in a car crash in 1997 after being chased by the paparazzi.
Prince Harry created a distance between himself and his uncle Prince Andrew:
In March 2020, two leading global entertainment publications obtained secretly-recorded audio of Prince Harry talking with Russian pranksters who pretended to be Greta Thunberg. The Duke of Sussex distanced himself from his uncle as he reportedly said, "Whatever he has done or has not done. Is completely separate from me, and my wife."
The late Queen Elizabeth II stripped Prince Andrew of his military titles and royal patronages:
In January 2022, the Queen stripped Prince Andrew of his military titles and royal patronages. Buckingham Palace also issued a statement that clarified about Prince Andrew facing the lawsuit as a private citizen. Furthermore, a royal source reportedly told a global publication that the Duke of York would not use his, His Royal Highness title in official capacity.
Prince Andrew and Virginia Giuffre reached an out-of-court settlement:
In February 2022, Prince Andrew and Virginia Giuffre reached an out-of-court settlement for the sexual assault lawsuit. Their joint statement in the court filing said that the prince intended to make a "substantial donation to Virginia Giuffre's charity in support of the victims' right."
However, the amount was not revealed publically anywhere in the media or on the internet. The statement further added, "Prince Andrew has never intended to malign Ms. Giuffre's character. He accepts that she has suffered both as an established victim of abuse and as a result of unfair public attacks. It is true that Jeffrey Epstein trafficked countless young girls over many years."
ALSO READ: Bigg Boss 16: Farah Khan teary-eyed on meeting her brother Sajid Khan in the house
Last Updated Jan 9, 2023, 2:43 PM IST