Pathaan rating by BBFC: Know how much Shah Rukh, Deepika Padukone's film gets under sex and violence
According to the British Board of Film Classification (BBFC) website, the film contains 'occasional sight of gory face injuries' and gunshot wounds in the wake of violence. Read the film ratings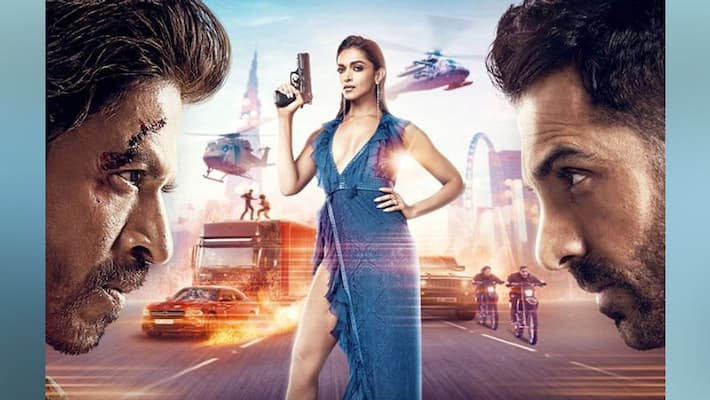 Pathaan, featuring Shah Rukh Khan, Deepika Padukone, and John Abraham, is slated to open in theatres tomorrow, and fans are ecstatic. The film has already surpassed the previous record holder, WAR, in terms of advance revenue for a Bollywood film.
The British Board of Film Classification (BBFC) has granted Shah Rukh Khan's Pathaan a 12A classification for moderate violence, threat, injury detail, and sex allusions before its release.
Pathaan rating by BBFC
The British Board of Film Classification (BBFC) mentions the rating breakdown and provides some background information on the actioner. Pathaan is a Hindi-language action thriller about an undercover officer and an ex-con, according to the organization's website. The website reveals the 12A rating by mentioning that an unedited 15 rating was available, but the distributor opted to trim sequences of intense violence in order to get the preferable 12A classification. 
Also Read: Pathaan: Shah Rukh, Deepika Padukone's film shocking advance booking update
According to the BBFC, the picture contains gunshots, stabbings, strangling, explosives, and hand-to-hand combat. The BBFC website also suggests the film contains 'occasional sight of gory face injuries' and gunshot wounds in the wake of violence. The BBFC notes that 'there is a mild sex reference' under sex.
Also Read: Pathaan Ringtone: Know how to set hello tunes on Jio, Airtel, Vodafone Idea mobile number
Pathaan is directed by Siddharth Anand and will be released in theatres on January 25, 2023. The film is being billed as one of India's largest action spectacles. It is a part of Aditya Chopra's grandiose spy world, which began in 2012 with Ek Tha Tiger. Pathaan will also have a prolonged appearance by Salman Khan.
Last Updated Jan 24, 2023, 4:22 PM IST