Kim Kardashian at Harvard Business School; SKIMS owner speaks to students about her shapewear brand
Kim Kardashian, the rich reality TV star and businesswoman, discussed her shapewear firm SKIMS as part of a Harvard Business School lecture. Kim on Instagram, calling it a "bucket list dream" to speak at Harvard.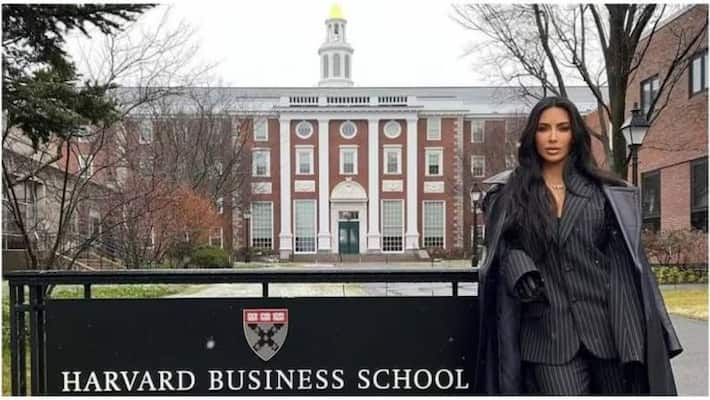 Kim Kardashian, a businesswoman and reality TV celebrity, spoke to Harvard Business School students on January 21 during a seminar about expanding beyond direct-to-consumer business models. Kim announced the announcement on Instagram, calling it a "bucket list dream" to speak at Harvard.
Kim Kardashian, a socialite and businesswoman, presented a surprise 2-hour talk at Harvard Business School (HBS) on Friday, January 20, 2023, outlining her success story with SKIMS, her shapewear brand. Kim's visit to the Ivy League School coincided with the fourth annual chapter of Moving Beyond Direct-to-Consumer, a session that features various entrepreneurs.
Also Read: Gandhi Godse Screening: Rekha, Poonam Dhillon and many more at the event
"I spoke At Harvard Business School yesterday for a class called HBS Moving Beyond DTC. The class's assignment was to learn about @skims, so my partner Jens and I spoke about our marketing, our challenges and our greatest wins. I'm so proud of Skims and the thought that it is a course being studied at Harvard is just crazy!!! Thank you professor Len Schlesinger and @harvardhbs for having us. #BucketListDream," Kim wrote
She expressed gratitude to Harvard professor Leonard A. Schlesinger for the chance to speak at Harvard. Skims was launched in 2019 by Kardashian, the star of the famous reality TV programme Keeping Up With the Kardashians, and two other entrepreneurs, Jens and Emma Grede. The brand emphasises inclusive sizing.
According to Fortune magazine, skims' worth more than quadrupled last year, from $1.6 billion to $3.2 billion. During the pandemic years, the brand became prominent as consumers preferred more comfortable attire.
Also Read: Kartik speaks trending dialogues in Shehzada; masses make his one-liners viral
Skims has been recognised for its ethos of inclusion. The company's creators were honoured at the Fashion Designers of America Fashion Awards in November 2022. Amazon Fashion honoured them with the first-ever Innovation Award.
Kardashian owned two more businesses, KKW (Kim Kardashian-West) Beauty and KKW Fragrance, and her net worth is believed to be $1.8 billion. From 2014 until 2021, she was married to artist Kanye West. They had four kids. Kardashian filed for divorce from him in 2021. Only a year later, in 2022, was a settlement achieved. The children will be shared between the ex-couple, and West will pay $200,000 monthly in child support.
Last Updated Jan 22, 2023, 12:23 PM IST