Is Diljit Dosanjh dating Taylor Swift? Here's what Punjabi singer has to say
Diljit Dosanjh and Taylor Swift reportedly went on a dinner date in Vancouver, accounting to an unverified tweet. Now, the Punjabi singer has reacted to the tweet.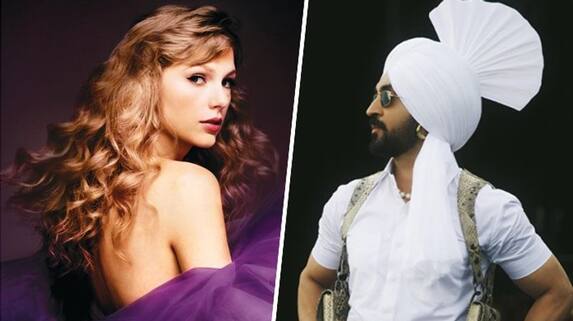 Diljit Dosanjh, a Punjabi legend, has a fantastic sense of comedy. The actor and singer, mostly residing in the United States, performed at Coachella in 2023. Taylor Swift has been in the headlines recently due to her tour and romance with Matt Healy. 
The Midnights singer supposedly started seeing him just days after her divorce from Joe Alwyn. They had been together for almost six years. However, Healy and Taylor's relationship is thought to be finished. It was supposedly never serious between the two and merely a fling. Given Matt Healy's troubling past activities, fans of the singer are overjoyed.
According to the news site listed below, Diljit Dosanjh and Taylor Swift spent time together at Cactus Club Cafe Coal Harbour in Vancouver. The restaurant provides spectacular views of British Columbia's waterfront as well as trendy Canadian cuisine. They were stated to be laughing and touching one other. Diljit Dosanjh, noted for his lethal sense of comedy, wrote, "There is something called Privacy" in Punjabi. The internet had the most amusing reactions to it. 
Also Read: 'Paranthas Weds Pancakes'- this is how Vicky Kaushal describes his marriage with Katrina Kaif
Diljit Dosanjh's personal life is mostly unknown. His wife and son are thought to be in the United States. There were allegations of him having marital troubles a few years ago. Diljit Dosanjh denied them, although he has never stated his marital status. Taylor Swift has reportedly been venting after a suffocating long-term engagement with Joe Alwyn. 
TMZ reported this. She and Matt Healy became acquaintances, which led to a brief summer romance. Her close friends say no one will obtain an album from his breakup with the stunning singer.
Also Read: Shahid Kapoor reveals about THIS mishap while shooting for 'Taal' song; know details
Diljit Dosanjh on work front: 
Diljit Dosanjh's next film will be Imtiaz Ali's Chamkila, which portrays the hidden true tale of Amar Singh Chamkila, the iconic Punjabi musician who rose to stardom in the 1980s with his strong songs. Tragically, he was murdered at the age of 27. Chamkila is still regarded as one of Punjab's finest performers, having earned enormous success as a best-selling artist.
Last Updated Jun 8, 2023, 3:14 PM IST