Sergio Perez's heartbreak at Mexican Grand Prix: A career-defining moment (WATCH)
Sergio Perez, the Red Bull driver, experienced a career-defining moment of heartbreak at the Mexican Grand Prix. His collision with Charles Leclerc and early race exit left the passionate home crowd in disappointment.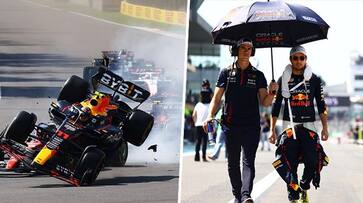 Sergio Perez described his early crash at his home Mexican Grand Prix on Sunday as the most heartbreaking moment of his career. The Red Bull driver, who had enthusiastic support from his home crowd, had a collision with Ferrari's Charles Leclerc while attempting to challenge for the lead, drawing alongside his Red Bull teammate and world champion Max Verstappen. Unfortunately, the tight situation forced him off the track, causing him to limp into the pits and retire.
"I've faced some very tough moments in my career," he reflected. "And undoubtedly, this is the most heartbreaking one due to the final outcome, but ultimately, it's all part of racing."
This incident not only ended Perez's race, despite his strong start from the fifth position on the grid, but it also caused damage to Leclerc's Ferrari, resulting in a damaged front wing. Leclerc continued but was unable to hold off seven-time champion Lewis Hamilton in his Mercedes, finishing in third place as Verstappen raced to his 16th win of the season and 51st of his career.
Perez emphasized that he felt compelled to take the risk of contending for victory in front of his fans, who had gathered in large numbers at the Autodromo Hermanos Rodriguez.
"To be honest, I believed that not going for it would have been a greater letdown for them... I saw an opportunity, and I seized it," he explained. "I made the decision to take a chance. I knew it was a high-risk move, and I ended up paying the price."
This outcome did little to quell speculations about Perez's future with Red Bull, following a string of disappointing performances that have left him without a podium finish in five races since the Italian Grand Prix on September 3.
While Perez struggled, Hamilton's accumulation of points allowed him to narrow the gap to 20 points in his battle with Perez for second place in the drivers' championship. This is a target highly valued by Red Bull as they have never achieved a one-two finish in the title race. Currently, Verstappen leads with 491 points, followed by Perez with 240, and Hamilton with 220.
Additionally, one of the drivers frequently mentioned as a possible replacement for Perez at Red Bull in 2024, Daniel Ricciardo, displayed his recovery from a broken hand by finishing seventh, outperforming Perez in his Alpha Tauri during qualifying.
Perez remarked, "There are days like this. What makes me proud is that I gave it my all. That's it..."
Red Bull team principal Christian Horner expressed sympathy, acknowledging Perez's strong performance throughout the weekend. He described the incident as an unfortunate moment and emphasized the importance of supporting Perez during challenging times.
Horner also praised Ricciardo for his maturity, experience, and pace, labelling the race as "the weekend I dreamed of - and I got it." This victory for Alpha Tauri brought them level with Alfa Romeo in the constructors' championship, both having 16 points, leaving Haas in the 10th and final position with 12 points.
Also Read: Max Verstappen equals Alain Prost's record with thrilling victory at the Mexican Grand Prix
Last Updated Oct 30, 2023, 2:36 PM IST