Comedian Danish Sait's take on leopard sighting in Bengaluru goes viral (WATCH)
Bengaluru's comedian Danish Sait went viral for his humorous take on a leopard sighting. In a video, he humorously represented the leopard, addressing urbanization's impact on wildlife. The clip garnered over 450k engagements, sparking humor and raising awareness about the serious issue.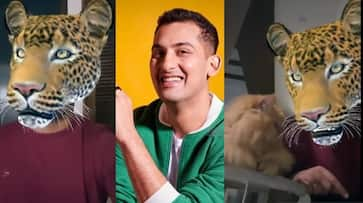 Bengaluru, famously known for its tech-savvy residents and lively culture, has recently witnessed quite an unusual celebrity in its midst – a leopard. The elusive Big cat has been causing quite a stir among the locals, prompting vigilant forest officials to launch an extensive search operation to ensure the safety of both the residents and the Leopard.
As news of the leopard's sightings spread like wildfire, one name stood out in the crowd, and it was none other than the city's beloved comedian and actor, Danish Sait. Known for his impeccable comic timing and knack for turning everyday situations into hilarity, Danish Sait took it upon himself to give the entire episode a comedic twist.

Bengaluru: Leopard escapes after being shot with anaesthesia, search operation persists
In a video that has quickly gone viral, Danish Sait offered a light-hearted take on the situation. Dressed in a 'leopard' filter, he humorously presented his words as an "official statement" from the leopard itself. With a playful twinkle in his eye, he stated, "Recently my video and photo have gone viral. I'm a law-abiding leopard, living in the jungle. You people came and made apartments there. I cannot move out of the jungle where you have captured the land and built apartments."

Leopard spotted in Bengaluru: People on high alert as officers launch search operation in Bommanahalli (WATCH)
Danish's comic timing and witty take on the situation sparked a meme fest in the comment section, with one user hilariously sharing, "One Uber driver cancelled my ride, saying there's a leopard; I won't go there." The video quickly gained over 450k engagements, spreading laughter throughout the city.
Another user even suggested that the leopard might want to consider a 2BHK apartment in the Forest View area, given the apparent property boom in the city. Danish's video subtly highlighted the impact of urbanization on wildlife habitats and the challenges it poses for wild animals, all while tickling the funny bone of his audience.
Last Updated Nov 1, 2023, 1:59 PM IST