Bengaluru: Leopard escapes after being shot with anaesthesia, search operation persists
A leopard in Bengaluru's Kudlu Gate area made headlines as a search operation to capture it unfolded over two days. Despite initial escape and injuries to a forest official, the combined efforts of forest department personnel, doctors, and the Leopard Task Force eventually led to the successful administration of anesthesia to the elusive feline.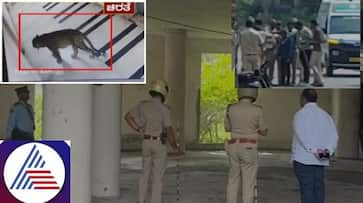 The Leopard, which had been roaming the streets of Kudlu gate in Bengaluru has escaped the watchful eyes of the officials, despite being allegedly shot with anaesthesia. The search operation near Kudlu Gate has been ongoing for 2 days. The Leopard was initially captured but managed to escape while attacking a forest official. The operation was conducted with the combined efforts of forest department personnel, doctors, and Mysore's Leopard Task Force.
The operation commenced with a comprehensive combing of the area surrounding the under-construction apartment, as forest department personnel and doctors braced themselves to confront the elusive feline. Their meticulous efforts led them to the discovery of the leopard in the basement of the rundown building, prompting the initiation of the operation to capture the animal.

Leopard spotted in Bengaluru: People on high alert as officers launch search operation in Bommanahalli (WATCH)
During the operation, a forest department staff member, identified as Kiran, unfortunately suffered injuries. While endeavouring to secure the leopard with a trap, Kiran accidentally fell into a pothole and suffered an injury.
As of the latest updates, it has been reported that the initial attempt to administer anaesthesia to the leopard experienced a misfire. Subsequently, a third attempt was successful, and the leopard was administered the anaesthesia. However, it may take an estimated 20 minutes for the leopard to lose consciousness.
Last Updated Nov 1, 2023, 11:30 AM IST