Leopard spotted in Bengaluru: People on high alert as officers launch search operation in Bommanahalli (WATCH)
Bommanahalli, Bengaluru, is on high alert due to multiple leopard sightings. Forest officials have formed teams and deployed drones to search for the elusive big cat, which was last seen near Kudlu Gate. Authorities urge residents to remain vigilant, and a cage has been set up to capture the leopard, prioritizing public safety in the area.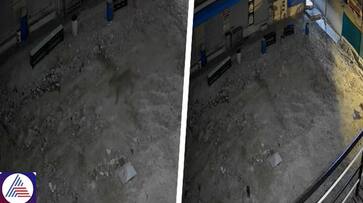 Bommanahalli, Bengaluru, is on high alert following multiple sightings of a leopard in the vicinity, creating a sense of unease among local residents. Over the past three days, the elusive big cat has been captured on CC cameras as it prowled around the area, prompting authorities to take swift action. Forest officials mobilized to address the situation, have formed four teams and deployed drone technology to explore the fourteen-acre territory in search of the leopard. Additionally, they've set bone traps to facilitate capture.
The leopard was spotted two days ago near the Cadenza apartment at Kudlu gate and later was seen near Bommanahalli. This has left the forest officials in a constant state of vigilance. With drone cameras in tow, they have conducted operations around Kudlu, Singasandra, Somasundarapalya, Hospalya, HSR, Parangipalya, and Bandepalya.

Bengaluru residents spot leopard roaming in streets; alert issued
The most recent sighting occurred on midnight of October 28 when the leopard scaled an 8-foot-high apartment compound wall near Kudlu Gate. By three o'clock in the morning, it was captured on CC cameras near the apartment's lift, heightening concerns. Forest department officials and staff have issued a public announcement urging local residents not to venture out alone at night and to remain vigilant until the leopard is captured.

Bengaluru man claims harassment and extortion by police over mention of 'weed' in chat text
Leopard sightings have also been reported near the IT park near Kudlu Gate, with police personnel on night patrol and residents spotting the big cat. Authorities have reacted swiftly, deploying police and forest staff to investigate the reports. A cage has been strategically placed by the forest department in a bid to capture the elusive leopard. The ongoing operation is focused on securing the area and ensuring the safety of the public in the vicinity of Bommanahalli.
The forest department continues to gather information from farmers who have had encounters with the leopard, and suspicions have arisen that the leopard has been prowling behind apartment complexes. Throughout the night, forest guards have patrolled the area, while footprints and other evidence of the leopard's presence have been discovered.
Last Updated Oct 31, 2023, 12:56 PM IST