Alia Bhatt jets off to Delhi to receive National Award; husband Ranbir Kapoor accompanies her [WATCH]
Alia Bhatt and Kriti Sanon will be honored at the 69th National Film Awards for their outstanding performances in 'Gangubai Kathiawadi' and 'Mimi,' respectively. Alia flies off to Delhi with husband Ranbir Kapoor by his side to receive the award.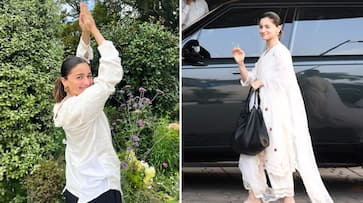 Alia Bhatt is set to receive the prestigious National Award in the Best Actress category for her remarkable performance in the movie "Gangubai Kathiawadi." The 69th National Film Awards ceremony, which has been eagerly anticipated, is scheduled to take place today, with the winners having been announced on August 24, and the event being held on October 17 in Delhi.
Earlier today, Alia Bhatt was spotted at a private airport in Mumbai, accompanied by her husband Ranbir Kapoor. She greeted the paparazzi with a warm smile as she stepped out of her car, radiating elegance in a white salwar kameez.
In "Gangubai Kathiawadi," directed by Sanjay Leela Bhansali, Alia portrayed the role of an activist and a girl who was forced into prostitution. Her performance was widely acclaimed and loved by audiences.
Previously, Alia Bhatt recreated the iconic Gangubai pose and expressed her gratitude to Sanjay Leela Bhansali and the entire team of "Gangubai Kathiawadi," giving them credit for her win.
Alia wrote, ''To Sanjay Sir..To the entire crew..To my family..To my team & last but most definitely not the least, To my audience.. This national award is yours .. because without you ALL none of this would be possible.. seriously!!! I am SO grateful 🙏.. I do not take moments like these lightly.. I hope to continue to entertain for as long as I can.. Love and light..Gangu (also known as alia).
Alia Bhatt is also sharing the award with Kriti Sanon. She received the award for her exceptional performance in the movie "Mimi." Kriti expressed her excitement and emotions, saying, "I'm too excited, almost emotional. I cannot believe that this has happened. It's still sinking in, and I am pinching myself. It is a big moment for me and my entire family. Mimi has been a very special film, and to receive the most prestigious National award for it, I just cannot thank the jury enough for believing that my performance deserved this recognition."
In addition to Alia and Kriti, Allu Arjun was honored with the Best Actor Award, and "Rocketry: The Nambi Effect" received the award for Best Feature Film.
ALSO READ: Video: Hema Malini and Rekha dance to 'Kya Khoob Lagti Ho,' share a kiss and hug onstage
Last Updated Oct 17, 2023, 9:57 AM IST