Video: Hema Malini and Rekha dance to 'Kya Khoob Lagti Ho,' share a kiss and hug onstage
On Hema Malini's 75th birthday, Bollywood diva Rekha danced with the 'Dream Girl' on 'Kya Khoob Lagti Ho' song. Rekha after the performance, hugged and kissed her best friend Hema.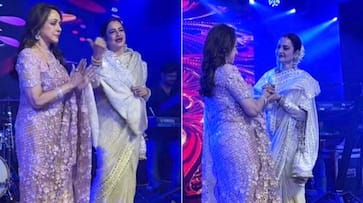 On Monday, October 16, Hema Malini, Bollywood's Dream Girl, turned 75. She threw a large birthday party in Mumbai for the film industry's who's who. A bevy of celebrities attended the renowned actor's birthday festivities, including Rekha, Anupam Kher, and Jaya Bachchan, as well as Rani Mukerji, Salman Khan, Vidya Balan, and Raveena Tandon. Hema Malini chose a gorgeous pink sheer net saree with striking diamond jewellery for the occasion. Several videos and photographs from the party have been widely circulated on the internet. But one such video, with Hema and Rekha on the dance floor, stole our breath away.
Many yesteryear actresses, including Rekha were a part of the celebrations. A happy video of Rekha interacting Hema has gone viral.
Rekha was seen in the video dedicating the song 'Kya Khoob Lagti Ho' to Hema. She embraced and hugged the birthday girl and conveyed her best wishes. While Rekha looked stunning in a golden brocade saree, Hema dazzled in a pink sequin saree. The couple smiled brightly as the photographers honestly recorded them.
Also Read: HEMA MALINI'S 75TH BIRTHDAY PARTY: MADHURI DIXIT, RANI, REKHA, VIDYA BALAN AND MORE BOLLYWOOD DIVAS SPOTTED
Have a look at the video :
Hema Malini is quite close to Rekha. The actress has often stated her dissatisfaction with the situation. Hema and Rekha have appeared in several films together. They appeared in the films Apne Apne and Jaan Hatheli Pe. Both of these films came out in 1987. Ramesh Behl directed and produced Apne-Apne. The film's primary actor was veteran actor Jeetendra, while the music was created by RD Burman. Jaan Hatheli Pe, on the other hand, was directed and produced by Raghunath Jhalani. The cast of the film included Dharmendra, Raj Babbar, and Jeetendra.
Both women also appeared together in the 1975 film Kahte Hain Mujhko Raja. Biswajeet directed the movie. Dharmendra also had an important part in the film. Hema recently shared a lovely recollection of the duo and posted a sweet tribute on Rekha's birthday.
The note read, "It is a very special day, a very khaas day for me – my dear friend of so many years, Rekha's birthday today. Time to celebrate this gorgeous, beautiful, evergreen lady's birthday, though for her, time has stood still and she never ages❤️I wish you all the best that life has to offer, my dear friend, and may God bless you foreverAll my love."
Last Updated Oct 17, 2023, 8:24 AM IST