'Teen Guna Lagaan...': India's dominant WC win over England evokes memories of classic among fans
Indian cricket team secured their sixth consecutive victory in the ODI World Cup 2023, defeating England by 100 runs on Sunday, leading to social media comparisons with the iconic film 'Lagaan'.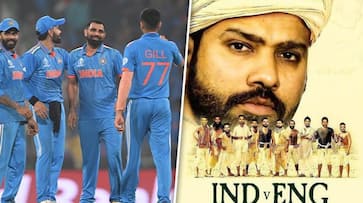 The Indian cricket team, led by Rohit Sharma, continued its winning streak in the ODI World Cup 2023 by securing a significant sixth consecutive victory during the match against England in Lucknow on Sunday. Despite doubts arising at the break as India was restricted to 229/9 by defending champions England, the pressure mounted on the hosts, especially with the talent in England's batting lineup. However, India's bowlers rose to the occasion, dismissing England for a mere 129, showcasing a remarkable turnaround.
This triumph, with a 100-run lead, propelled the Indian cricket team closer to securing a spot in the ODI World Cup 2023 semi-finals. Following the victory, enthusiastic Indian cricket fans took to social media, drawing parallels between the match and the Aamir Khan-starrer film 'Lagaan,' where an Indian team defeats a squad of British officers. Social media platforms were flooded with Lagaan-themed memes, resonating with the victory's underdog narrative.
The clash saw an exceptional performance from bowlers Jasprit Bumrah and Mohammed Shami, who delivered fiery opening spells. Rohit Sharma's resilient innings of 87 runs on a challenging pitch played a crucial role as most Indian batters struggled in the face of the pitch's unpredictable nature. Suryakumar Yadav contributed with 49 crucial runs in the death overs, pushing India to a total of 229 for nine.
The standout heroes in India's victory were Shami, who claimed 4 wickets for 22 runs, and Bumrah, taking 3 wickets for 32 runs. Their stellar bowling performance was instrumental in India's commanding win as England's batting lineup faltered, succumbing to a total of 129 all out in 34.5 overs, marking their fifth loss in six games.
This defeat all but ends England's chances of progressing to the semifinals, while India, maintaining an undefeated streak in the tournament, edges closer to securing a spot in the next stage. The emphatic win highlighted the host team's dominance and resilience in the face of a challenging match, positioning them favorably for the upcoming stages of the tournament.
Also read: India vs England: KL Rahul bags second WC 'Best Fielder' medal in unique fashion; WATCH spectacular reveal
Also read: Goosebumps! Fans sing Vande Mataram along with dazzling light show after India's WC win over England (WATCH)
Last Updated Oct 30, 2023, 12:03 PM IST