Surprising golf duo in US: MS Dhoni tees off with former President Donald Trump; video goes viral - WATCH
MS Dhoni's American journey takes an unexpected turn as he plays golf with former President Donald Trump, creating a social media frenzy and captivating fans with his diverse adventures in the US.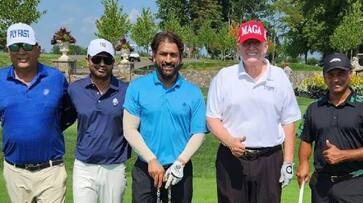 Lauded as one of the greatest cricketers in history, former Indian skipper MS Dhoni is making the most of his visit to the United States of America. His recent excursion included a trip to the US Open 2023 Men's Singles quarter-final match, where defending champion Carlos Alcaraz faced off against Germany's Alexander Zverev. However, Dhoni's American adventure took an unexpected turn when he was spotted playing golf with none other than former US President Donald Trump. The images of this unexpected duo quickly surfaced on social media, causing quite a sensation. Rumuor has it that Trump himself extended the invitation for the golf match.
Interestingly, Dhoni, who had a background as a football goalkeeper before achieving cricketing stardom, decided to try his hand at golf during this outing.
The initial photograph featuring Dhoni and Trump was shared by Hitesh Sanghvi, an entrepreneur based in Dubai and a known friend of the cricketer. Sanghvi had also accompanied Dhoni to the Alcaraz vs Zverev quarter-final at the US Open.
Sanghvi expressed his gratitude on Instagram, saying, "Golf with @mahi7781, @realdonaldtrump and @rajiv.knack.......thank you, Mr. President, for hosting us."
A Twitter user shared a video capturing Dhoni and Trump engaged in a round of golf, offering fans a closer look at this unique encounter.
The "Dhoni fever" has undeniably swept across the United States, with videos of his various adventures in the country going viral. While it may be some time before cricket fans witness Dhoni's return to the sport, it is truly captivating to see him captivating audiences in diverse settings during his time in the US.
Last Updated Sep 8, 2023, 12:02 PM IST