'Suddenly I'll be a bad captain': Rohit Sharma offers reality check as ODI World Cup 2023 expectations soar
Ahead of India's ODI World Cup 2023 clash against Sri Lanka on Thursday, Indian skipper Rohit Sharma explained his captaincy approach and provided tactical insights.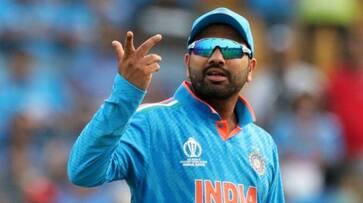 The Indian cricket team is making an impressive mark at the ongoing ODI Cricket World Cup 2023 under the leadership of Rohit Sharma. With an unbeaten streak of six victories, the team stands on the brink of securing a spot in the semi-finals. The last time India clinched the ODI Cricket World Cup title was in 2011, and the expectations are high for Sharma's team to bring home the trophy this time.
In an interview ahead of the crucial match against Sri Lanka at Mumbai's Wankhede Stadium on Thursday, Rohit Sharma was questioned about his approach to captaincy. The seasoned skipper responded with a comprehensive insight into his strategy, emphasizing the importance of reading the game situation and making informed decisions based on the ongoing scenario.
"I mean, look, you read the situation, you see where the game is going, you see what is the right move in that particular situation. You try and analyse all those things and you try and make a move. Sometimes it works, sometimes it doesn't work," Rohit Sharma replied. "So, you've got to be prepared for that. I totally believe that whatever calls we make on the field, it is in the best interest of the situation of the team and what is going to happen from here on now, next five overs or ten overs. So, you try and analyse those kind of situation and try and make that move."
Also read: Honouring 'God'! Tendulkar recalls nostalgic journey after grand unveiling of statue at Wankhede Stadium
Additionally, Sharma disclosed his specific focus on studying the opposition team's strengths and tendencies. "Like I said, sometimes it can work, sometimes it may not. So, I try and look into all those situations and I see what is the strength of the opposition team, what they like to do in certain phases of the game, and try and analyse those aspects of the game. And then try and pass on that message to the bowlers," Rohit Sharma said on Wednesday.
"This is what we're trying to do, trying to go for wickets, or trying to contain the batsmen with a little bit of different field placement and things like that. It's the minor adjustment and the tactical aspect of the game that I try and bring in when I feel like it's necessary. Hats off to the players as well to really comply with that, because it's not easy. It's one thing if I keep thinking about it, and another thing if the guys don't comply with it."
Sharma acknowledged the volatility of perceptions in cricket, acknowledging that while things may look favourable in one instance, a single game could change perspectives about his captaincy. However, he remains focused on executing what is best for the team and maintaining a pragmatic approach toward expectations.
"And I think full credit to all 10 of them who have taken parts in that game and responded to that thought process of the team. It's not my thought process, it's the team's thought process that the guys comply with. When things look good, everything looks good, everything works well. I know how this whole thing works. I'm quite aware of one game here and there, I know suddenly I'll be a bad captain. I know how it works. I try and do what is necessary from the team's perspective and be sure of that," he concluded.
Last Updated Nov 2, 2023, 1:44 PM IST