Honouring 'God'! Tendulkar recalls nostalgic journey after grand unveiling of statue at Wankhede Stadium
Expressing his gratitude, Sachin Tendulkar shared the overwhelming joy he experienced upon receiving the proposal from MCA officials regarding the installation of his statue at Mumbai's Wankhede Stadium.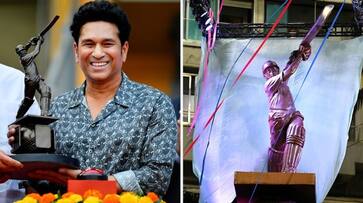 Legendary Indian cricketer Sachin Tendulkar was rightfully honoured at the iconic Wankhede Stadium on Wednesday amid the ongoing ODI World Cup 2023, a place that holds profound significance in his life and cricketing journey. From being a curious 10-year-old sneaking into the stadium without a ticket to now witnessing his life-sized statue being installed at the revered venue, the occasion marked an unforgettable milestone for the legendary cricketer.
The grand unveiling ceremony took place at Tendulkar's home ground, with Maharashtra Chief Minister Eknath Shinde leading the proceedings. Accompanied by his wife Anjali and daughter Sara, Tendulkar was joined by several dignitaries, including former BCCI and ICC chief Sharad Pawar, current BCCI secretary Jay Shah, treasurer Ashish Shelar, vice-president Rajiv Shukla, and Mumbai Cricket Association (MCA) president Amol Kale.
Expressing his gratitude, Tendulkar shared the overwhelming joy he experienced upon receiving the proposal from MCA officials regarding the installation of his statue. He described it as a deeply humbling moment, acknowledging the honour of having his statue placed within the stadium that holds a myriad of memories and has been pivotal in shaping his life.
"It is indeed a special moment for me. It was around February when Mr Shelar and Mr Kale called me on the behalf of the MCA, they said we are having this thought of having your statue inside the stadium. I was extremely delighted, to be honest. I did not know how to react," Tendulkar said. 
"I am truly humbled when I stand here. I go to the ground, there are thousands of images that come to my head and thoughts, so many incredible memories. It is truly an honour to walk on this turf which has given me everything in life," he added.
Also read: Didn't think I'd score so many hundreds and runs: Virat Kohli on verge of equalling Sachin Tendulkar's record
Reflecting on his early years, Tendulkar reminisced about his first visit to the Wankhede Stadium back in 1983. He vividly recalled being just a 10-year-old among a group of friends who, despite not having enough tickets, managed to witness a match at the stadium.
"My first visit to the Wankhede Stadium was way back in 1983, I was only 10 years old. The West Indies had come to India and this was after the World Cup, the excitement was there. All my colony friends in Bandra, not 10-year-olds but my brother's friends, possibly 30-40 years old They all decided to go for this match," he said.
"I do not know how it happened but a 10-year-old Sachin was also asked to accompany. I went along with them, we took a train at Bandra, got off at Churchgate and enjoyed the whole game. And by the way, I sat at the North Stand. We all cricketers know what the North Stand can do -- when they get behind the team no opposition can stop India and Mumbai," Tendulkar said.
"I was a part of the North Stand gang, I also made a lot of noise, enjoyed the game. (On) my way back home to Bandra and somebody said 'achcha manage kiya na?' (We managed it well, no?). There were 25 of us and we only had 24 tickets. I asked how did we manage? The reply came, 'usko Sachin ko chhupa ke le jana pada' (we had to hide Sachin between us to taken him inside'," he said.
"Sometimes, being vertically challenged can also work well for you," quipped Tendulkar.
The cricketing icon also revealed an interesting anecdote about his recommendation for Mahendra Singh Dhoni as India's captain in 2007. Tendulkar, dealing with ankle troubles, expressed his inability to commit to the full responsibilities of a captain. Consequently, during a meeting with then BCCI President Sharad Pawar in England, he proposed Dhoni for the role, a decision that later shaped history in Indian cricket.
"I remember having a meeting with Mr Pawar (the then BCCI president) in England and I told him that as a player, my leadership role will always be there," he said. 
"Only the captain's tag won't be there. But at this stage, I don't think I can last the whole day as both my ankles were giving trouble. That's the reason I suggested that Dhoni be made the captain and the rest is history," he recalled.
Last Updated Nov 2, 2023, 12:33 PM IST