Pray PM Modi, Sachin Tendulkar embrace Islam: Saeed Anwar's shocking audio recording resurfaces (LISTEN)
An old audio recording, claiming to be that of Saeed Anwar, has gone viral on X in which the former Pakistan cricketer allegedly says that he prays for Indian PM Narendra Modi and legendary cricketer Sachin Tendulkar to convert to Islam.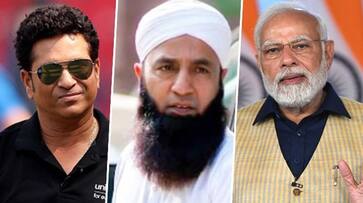 Days after videos of former Pakistan captain and ex-PCB selector Inzamamn-ul-Haq, claiming that veteran Indian spinner Harbhajan Singh was inspired by the teachings of a Maulana, another explosive audio recording purportedly of Saeed Anwar resurfaced on X on Friday. In the old audio recording, which was first published on YouTube in March 2021, the former Pakistan cricketer calls for non-Muslim people to embrace Islam, including Indian PM Narendra Modi and legendary cricketer Sachin Tendulkar.
Also read: India vs Australia: IAF's Suryakiran team rehearses for air show ahead of WC final in Ahmedabad (WATCH)
"Pray for the non-Muslims and hope Allah guides them to embrace Islam. I pray to Allah that he guides PM Narendra Modi to embrace Islam. I pray Sachin Tendulkar, Brian Lara and all the non-Muslim people I know to convert to Islam. Why don't these poor souls embrace Islam?" Saeed Anwar allegedly said in the audio recording that has now gone viral on X.
This explosive audio recording of Saeed Anwar comes days after an old video of Inzamam-ul-Haq, claiming how Harbhajan Singh was inspired by the teachings of Maulana Tariq Jameel, went viral sparking a massive social media outrage.
"We had kept a room where we offered our Namaz. After the Namaz, Maulana Tariq Jameel used to speak to us for sometime. During that time, we invited Irfan Pathan, Mohammad Kaif and Zaheer Khan to come pray along with the rest of the Pakistan team. A few other players also used to join us. They did not offer Namaz, but they used to sit and listen to what Maulana Tariq Jameet would have to say," the ex-chief selector of the Pakistan Cricket Board had said.
Also read: 'Kon sa nasha...': Harbhajan Singh fumes over Inzamam-ul-Haq's 'conversion' claim
He further claimed, "One day, Harbhajan Singh told that my heart tells me to listen to Maulana's words. He didn't know who this person was, but he said, "Dil karta hai iski baat maan lu." Then I told, "Listen to him, what is the harm." He said, "Tumhe dekhke ruk jaata hu. (I stop after seeing you)" I responded, "Mujhe dekhke kyu ruk jaate ho? (why do you stop after seeing me)."
In response to the viral video, a fuming Harbhajan said, "Yeh kon sa nasha pee kar baat kar raha hai? I am a proud Indian and proud Sikh..yeh Bakwaas log kuch bi bakte hai."
Last Updated Nov 17, 2023, 3:17 PM IST