ODI World Cup 2023: Gautam Gambhir gives his blunt take on Rohit Sharma, says "No PR or Marketing Can..."
Former Indian cricketer Gautam Gambhir has heaped praise on Rohit Sharma once again. This came after India's prolific 100-run win against England on Sunday. Rohit Sharma led the batting from the front by scoring 87 runs from 109 balls.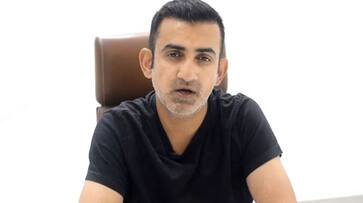 Indian captain Rohit Sharma has been on a fine run of form in the ODI World Cup 2023 in the six matches played. The Indian opener was doubtful for the England match after he hurt his finger in training. Despite that Rohit Sharma played the game and orchestrated a match-defining knock.
India was going through a terrible passage of play where they were victims of a batting collapse. Rohit Sharma stood tall in the time of need and played the role of anchor like a true leader. He led by example and scored 87 runs from 109 balls. This gave confidence to other batters like KL Rahul and Suryakumar Yadav who also contributed with the bat.
Also Read: ODI World Cup 2023: Graeme Smith's insights on India's dominance in the mega event
The men in blue posted 229 runs as the Indian bowling lineup exerted mayhem on the English batting lineup. Jasprit Bumrah and Mohammed Shami's starting spell turned the ODI World Cup 2023 game in complete favor of India. It was a truly spectacular display from the hosts.
Gautam Gambhir was impressed by Rohit Sharma and said, "Leader - the thing he wants from the team, he does it himself. If you expect positive batting from your teammates, you have to do it yourself. This act - leading from the front - you have to do it yourself. No kind of PR or marketing agency can do it for you.
Rohit Sharma has done that. Maybe in terms of run tally, he is at the No. 10 or No. 5 slot. It does not matter. But your aim is winning the trophy on November 19. You have to decide whether your aim is to hit 100 or win the World Cup. If your aim is to hit a ton, then you play that way. But if aim is to win the World Cup, then a selfless captain, like the way Rohit Sharma has batted, I expect him to do that more."
The England game on Sunday was not the first time that Rohit Sharma led from the front by setting an important example. He has already done that numerous times with his beautiful batting and field placements, and bowling changes in the ODI World Cup 2023.
Last Updated Oct 30, 2023, 8:02 PM IST