ODI World Cup 2023: Graeme Smith's insights on India's dominance in the mega event
Former South Africa captain Graeme Smith provides a compelling perspective on the unparalleled dominance of the Indian cricket team in the World Cup.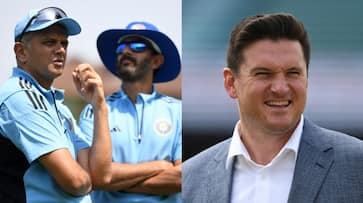 The Indian team's dominance in the ongoing World Cup has left them largely untested, despite the unexpected challenge posed by Hardik Pandya's untimely ankle injury, according to former South Africa captain Graeme Smith. With six resounding victories in the league stage, the Indian side stands firmly at the top of the 10-team table. Smith expressed, "India's supremacy has been so overwhelming that they have yet to face a significant test in the tournament. The recent match against England, where they defended a 230 total, was possibly the first time they encountered a tough situation, proving their dominance so far." Smith acknowledged that India has historically been a formidable team at home, emphasising their exceptional balance and a strong bowling attack featuring pace and spin.
He mentioned the one concern for India is the additional bowler they have been forced to include due to Pandya's injury, impacting their team's balance. Smith explained, "In a situation where you find yourself in trouble with three or four early wickets down, you miss the presence of an all-rounder." However, he noted that Indian players have significant experience in high-pressure situations and have consistently found a way to perform. India has also shown composure in front of passionate home crowds.
Smith praised India's bowling attack, considering it the best among all the participating teams in the competition. He highlighted the presence of two high-quality spinners and a pace attack led by Jasprit Bumrah, Mohammed Shami, and Mohammed Siraj. Smith emphasised the importance of having attacking bowlers capable of taking wickets at any stage of an innings, particularly in high-scoring games. As the tournament progresses, it will be interesting to see how teams perform during the critical phase. Smith anticipates that the coming weeks will be the "crunch time" of the competition.
Also Read: ODI World Cup 2023: Pakistan desperate to revive campaign as South Asian derby takes shape
Last Updated Oct 30, 2023, 7:48 PM IST