IND vs AUS, 1st ODI: 'Mindset was to pitch the ball little further with a slip in place' - Shami on his 3-for
IND vs AUS 2022-23: India rattled Australia with the ball in the opening Mumbai ODI on Friday, thanks to three-fors from Mohammed Shami and Mohammed Siraj. Meanwhile, the former has revealed his idea of bowling at the Australians.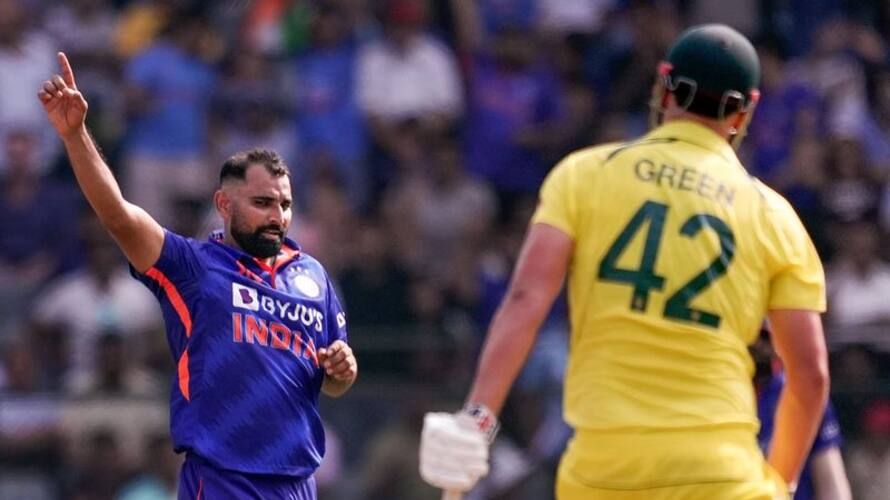 When senior seamer Mohammad Shami bowled the first ball of his second spell, it felt like everything had fallen into place. Wicketkeeper-batter KL Rahul and all-rounder Ravindra Jadeja's star turn with the bat might have got India a five-wicket against Australia in the first One-Day International (ODI). Still, the credit for restricting visitors to a gettable total goes to Shami.
"It felt alright right from the first ball of the second spell. The ball was coming off nicely from the point of release. We talked about the seam position or off the deck, but the focus was to keep the ball in good areas because they were playing on the back foot. My mindset was to pitch the ball a little further with a slip in place, as I had done in the first spell," Shami told the media persons after the match.
ALSO READ: IND VS AUS, 1ST ODI: 'CALMING TO THOSE WATCHING FROM THE OUTSIDE' - PANDYA HAILS RAHUL-JADEJA'S FINE BATTING
Shami said it was pleasing to see Rahul playing a pivotal role with the bat after a long struggle with the bat and criticism from almost all corners. "He has played so many good innings in the past. It sometimes happens that luck does not favour you, or things are not working out well if you are trying to do something," Shami said.
"The pressure [on Rahul] was certainly there, we had lost so many wickets in quick succession, but the way he rebuilt, it was very nice to see that one of our players has made runs in a pressure situation," Shami added. The right-arm India pacer, who returned with 6-2-17-3 on Friday, said it is important to clinch the momentum at the right time in venues like the Wankhede Stadium in Mumbai.
ALSO READ: IND VS AUS 2022-23, 1ST ODI - KL RAHUL'S PATIENT UNBEATEN 75 STEERS INDIA HOME; SOCIAL MEDIA DELIGHTED
"If you see overall, there have also been high-scoring matches here. The pitches here have good bounce, the ball comes nicely on the bat too, [big] runs are also scored here at this venue. But, whenever someone bowls in the right areas, [the course] of a match changes. It is all about when you can shift the momentum early or late. That is what we pulled off today. Once we got the momentum on our side after the 20th over, we capitalised on it, and we could stop them at 188," Shami articulated.
Enjoyed bowling with Siraj
Shami said he enjoys bowling with pacer Mohammed Siraj in the absence of an injured pacer Jasprit Bumrah. "It has been a long time since Bumrah has not been playing. It is our hard luck that he is not there. But we have an excellent overall bowling unit for white and red balls. We support each other a great deal," Shami enunciated.
ALSO WATCH: 'Thalaiva in the house': Twitter explodes as Rajinikanth graces Wankhede for IND vs AUS ODI
"Siraj has been playing for a while. He has confidence. It is important to see how well the other bowler does when bowling in partnerships. We try to bowl as tight as possible, keeping the ball in specific patches. As a senior bowler, you must lead the way," he added.
Shami said it is essential for players to be smart about their workload management with two significant events, the ICC World Test Championship 2021-23 Final and the ICC World Cup 2023, lined up. "A lot of time is left for the WTC final and World Cup. As a player, you cannot think that far ahead. You never know what will happen tomorrow. But you have to be smart as far as the workload is concerned. You have to work on your strengths. You know your workload as per international cricket. It is better to take it series by series or match by match," he said.
(With inputs from PTI)
Last Updated Mar 18, 2023, 10:08 AM IST