Vini Raman's heartwarming instagram tribute to Glenn Maxwell's record-breaking knock
Vini Raman, shared a touching message on Instagram to celebrate Maxwell's historic performance against Afghanistan.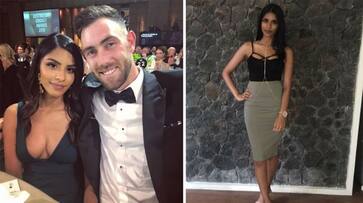 Vini Raman, the wife of Glenn Maxwell, shared a heartfelt message on her Instagram after her husband's outstanding performance in the match against Afghanistan. Maxwell, the versatile Australian all-rounder, has been the center of attention in town following his remarkable double century, which played a crucial role in Australia's thrilling victory over Afghanistan. The match took place in Mumbai, with Australia initially struggling at 91/7 while chasing a target of 292. However, despite battling an injury, Maxwell took charge of the situation and guided his team to victory with 19 balls to spare, securing a place for Australia in the semi-finals of the ongoing ODI World Cup 2023.
In the aftermath of the match, Maxwell's spouse, Vini Raman, took to her Instagram account to share an emotional post, congratulating her husband on his remarkable performance. She expressed her pride and support for him, acknowledging the challenging conditions he faced during the match.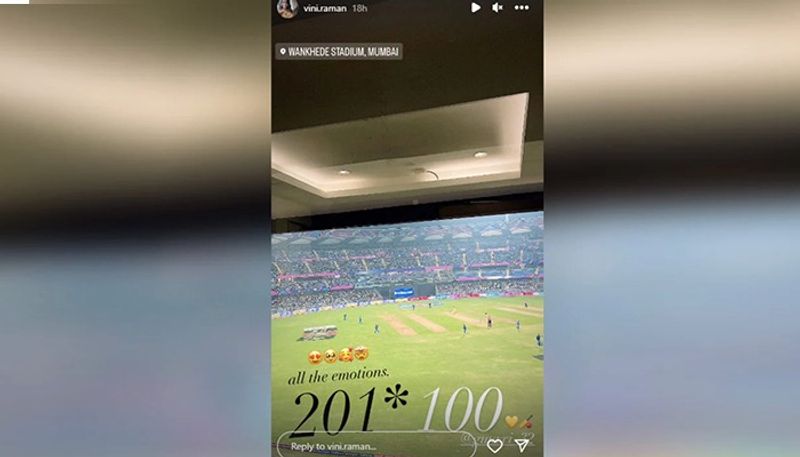 During a post-match interview, Glenn Maxwell reflected on his performance, mentioning the challenging weather conditions and his determination to stay positive and play his shots. He admitted that he had some fortunate moments during his innings but was proud of making the most of those opportunities. He emphasized the team's unwavering belief and the significance of their performance in defying early doubts.
As for the match itself, Afghanistan chose to bat first, with Zadran and several other players contributing to their total of nearly 230 runs. In the final overs, Zadran accelerated, and Rashid Khan played a quick innings to set a target of 291/5 for Australia. Australia's bowlers, including Josh Hazlewood, Adam Zampa, Mitchell Starc, and Glenn Maxwell, picked up wickets to contain Afghanistan.
Australia faced a daunting task while chasing 292, finding themselves at 91/7. However, Glenn Maxwell partnered with skipper Pat Cummins, and together, they built a historic double-century partnership. Maxwell's extraordinary performance, despite facing heat and cramps, led to Australia's first-ever ODI double century, with 201* runs scored in just 128 balls, featuring 21 fours and 10 sixes. Pat Cummins also contributed with an unbeaten 12 runs to seal the remarkable victory.
Also Read: ODI World Cup 2023: Tickets for semi-finals and final to be sold today; here's where to buy from
Last Updated Nov 9, 2023, 12:35 PM IST