ODI World Cup 2023: India's brilliant batting display sets second-highest total in the mega clash
In a cricketing spectacle at M. Chinnaswamy Stadium, India scored their second-highest total in the tournament's history.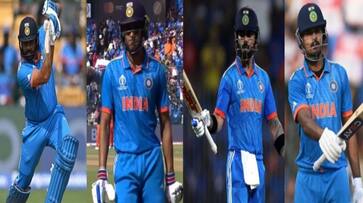 ODI World Cup 2023 witnessed a remarkable display of batting prowess as India notched up its second-highest total in the history of the tournament during a compelling match against the Netherlands at M. Chinnaswamy Stadium in Bengaluru. The men in blue compiled a staggering 410/4, showcasing an exceptional batting performance highlighted by rapid-fire centuries from Shreyas Iyer and KL Rahul.
This recent achievement propelled India to the pinnacle of their second-highest total in ODI World Cup history, closely trailing their record-setting innings of 413/7 against Bermuda in 2007. The Port of Spain clash in 2007 remains etched in memory as a historic moment for Indian cricket.
India's highest World Cup totals:
413/7 vs Bermuda in 2007 - Port of Spain: A groundbreaking innings that set the standard for India's prowess on the world stage.
410/4 vs Netherlands in 2023 - Bengaluru: The recent spectacular performance that showcased the current team's formidable batting lineup.
373/6 vs Sri Lanka in 1999 - Taunton: A memorable innings from the late '90s, reflecting India's evolving cricketing excellence.
370/4 vs Bangladesh in 2011 - Mirpur: A formidable total during the 2011 World Cup, underlining India's dominance in the tournament.
357/8 vs Sri Lanka in 2023 - Mumbai: Another noteworthy performance in the same year, emphasizing the team's consistency and resilience.
India's journey in the ODI World Cup has been punctuated by these outstanding innings, each contributing to the rich tapestry of the country's cricketing history. As they continue their campaign in the 2023 edition, the team aims to create more memorable moments and add to their list of remarkable achievements in the prestigious tournament.
Also Read: ODI World Cup 2023: Rohit Sharma rewrites records in the showdown against Netherlands
Last Updated Nov 12, 2023, 6:19 PM IST