ODI World Cup 2023: India's bowling coach lauds Shami and Bumrah's tactical expertise in the mega event
India's bowling coach, Paras Mhambrey, commends the tactical brilliance of Mohammed Shami and Jasprit Bumrah.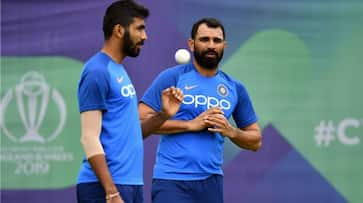 Conversations with Mohammed Shami and Jasprit Bumrah revolve solely around tactical aspects, with no need for technical discussions, according to India's bowling coach, Paras Mhambrey. Their exceptional skills and understanding of the game require no technical intervention. Shami and Bumrah recently delivered a scintillating display of fast bowling, contributing to India's sixth consecutive victory over England. They harnessed the conditions expertly, with Shami's ten-ball burst against Ben Stokes showcasing his relentless prowess. Both bowlers are in their prime, making technical guidance unnecessary, as mentioned by Mhambrey.
Shami, initially left out of the team, has solidified his place with outstanding performances against New Zealand and England. Mhambrey expressed, "When you have such a skill set in the team, what Shami and others bring, you really don't need to have a discussion over it. These guys have played enough cricket and understand what is needed by the team." He went on to emphasize that the team's exceptional bowlers make his job as a coach much easier.
The focus with these seasoned bowlers is primarily on tactical strategies rather than technical aspects. Mhambrey added, "It is all about man-management at this level. They have played enough cricket; they understand bowling inside out. I don't explain much about the technical bit but only about the tactical bit. The bottom-line is about execution. The credit goes to them."
Mhambrey praised the crucial opening spells from Bumrah and Shami in the recent match against England, highlighting their pivotal role in taking early wickets. These early breakthroughs were instrumental in setting the foundation for India's victory.
While India's bowlers delivered an impressive performance, their batting left room for improvement, with several players struggling to accelerate on a challenging pitch. Mhambrey acknowledged this and indicated that the team would analyze and work on areas for improvement in the remaining league games.
Regarding the return of star all-rounder Hardik Pandya, who has been sidelined due to an ankle injury, Mhambrey mentioned that the medical team is monitoring his progress and expects to receive an update in the coming days. Hardik's absence has led to adjustments in India's playing eleven, emphasising his importance to the team as an all-rounder.
Also Read: Babar Azam in 2019 or Jos Buttler in 2023: Who was Kuldeep Yadav's prized WC wicket? Indian spinner responds
Last Updated Oct 30, 2023, 1:30 PM IST