Babar Azam in 2019 or Jos Buttler in 2023: Who was Kuldeep Yadav's prized WC wicket? Indian spinner responds
India spinner Kuldeep Yadav had bowled a beauty to castle Babar Azam in the ODI World Cup 2019 and he produced an equally good ball to remove England captain Jos Buttler in the ongoing 2023 edition clash in Lucknow on Sunday.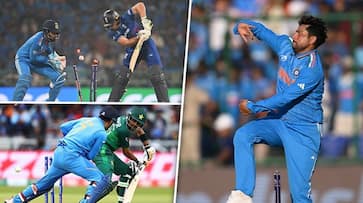 In their ODI World Cup 2023 clash on Sunday in Lucknow, India's spinner Kuldeep Yadav showcased his skill by delivering a remarkable ball, dismissing England's captain Jos Buttler, reducing their chase to 52 for five. The delivery, reminiscent of his exploit against Babar Azam in the 2019 World Cup, pitched wide outside the off stump before sharply turning back to dismantle the stumps.
Also read: 'Teen Guna Lagaan...': India's dominant WC win over England evokes memories of classic among fans
"I would say both balls were very good. They were same balls in my view. There was no change. Quality is important and both were quality batters. The team also won. It was also special to play in front a big crowd like that," said Kuldeep after India's 100-run win over England.
The win for India in this low-scoring game was primarily set up by the magical opening spells from Jasprit Bumrah and Mohammad Shami. After the initial powerplay, Kuldeep's role was to maintain the pressure, which he executed effectively.
Also read: India vs England: KL Rahul bags second WC 'Best Fielder' medal in unique fashion; WATCH spectacular reveal
Reflecting on his strategy, Kuldeep mentioned, "Shami and Bumrah bowled very well in the power play. My plan was just to bowl on a good length. There was spin, and I used the crease well."
Kuldeep expressed his fondness for bowling under lights, which he had the opportunity to do in the match where India batted first for the first time in the tournament. "It is good if batting comes first. It is even better if the total is good, then it is more fun to bowl under lights. 230 was a decent score on this wicket. The way Rohit bhai batted it helped us put a respectable total," added the Indian spinner.
Also read: Goosebumps! Fans sing Vande Mataram along with dazzling light show after India's WC win over England (WATCH)
Last Updated Oct 30, 2023, 12:34 PM IST