ODI World Cup 2023: Can Afghanistan upset India? Scientific astrologer predicts - WATCH
Astrologer Greenstone Lobo shares his playful astrological perspective on the India vs Afghanistan cricket match, while also offering strategic insights on player selection for the game at Feroz Shah Kotla during the ICC World Cup 2023.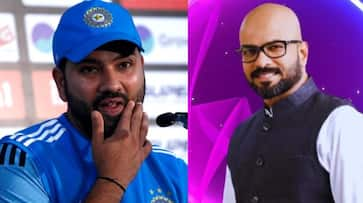 Astrologer Greenstone Lobo offers intriguing insights into the India vs Afghanistan match at the Feroz Shah Kotla in Delhi. Lobo initially teases with a playful remark, suggesting that Afghanistan has a strong astrological backing that could potentially lead to a victory against India. However, he swiftly clarifies that it's all in good fun.
In a more serious tone, Lobo recommends that this match presents an excellent opportunity for India to provide valuable playing time to emerging talents like Suryakumar Yadav and others. He suggests resting Jasprit Bumrah and fielding Mohammed Shami to help them prepare for more challenging encounters ahead. In his expert assessment, Lobo believes that the Indian team is well-positioned to secure an easy victory in this game.
Lobo's playful astrological remark adds a touch of lightheartedness, but his strategic advice underscores the importance of player development and preparation for the Indian team as they progress through the World Cup.
"The Afghanistan team looks very strong astrologically, they can even win the match against India." He quickly add that he is just joking
"I would say that, It's good opportunity for India to give a chance to Suryakumar Yadav and other players, give them valuable match practice. Rest Bumrah and get Shami, so that they can be prepared for tougher battles."
"The Indian team should easily win this game." Lobo concluded.
Also Read: ODI World Cup 2023: India vs Afghanistan; Head-to-head record, pitch report, form guide and more
Last Updated Oct 11, 2023, 2:32 PM IST