Musical special ahead of India vs Pakistan ODI World Cup 2023 showdown; here's a list of artists
As cricket enthusiasts eagerly await the India vs Pakistan face-off in the ODI World Cup 2023, the Board of Control for Cricket in India (BCCI) has added an extra layer of excitement. Renowned Bollywood singers, including Sukhwinder Singh, Shankar Mahadevan, and Arijit Singh, are slated to grace the event with captivating performances.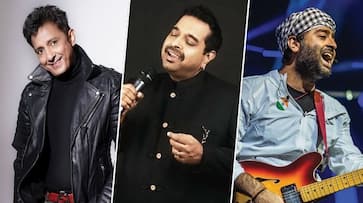 The highly anticipated India vs. Pakistan showdown is set to commence tomorrow at 2 PM IST, and ahead of this marquee event, the BCCI has extended an invitation to renowned Bollywood singers for a captivating performance. The BCCI has also unveiled the star-studded lineup of artists who will grace this grand occasion.
The roster boasts an array of celebrated music industry stalwarts, including Sukhwinder Singh, Shankar Mahadevan, and Arijit Singh. The mesmerizing performances by these musical legends are scheduled to begin at 12:30 PM, setting the stage for an enthralling start to the match.
In the upcoming ODI World Cup 2023, the Men in Blue will take on Pakistan in what promises to be one of the most eagerly anticipated matches of the tournament. The level of excitement surrounding this match surpasses anything witnessed in the season thus far.
The upcoming ICC World Cup 2023 encounter between India and Pakistan, scheduled for October 14, has generated substantial anticipation. Adding to the excitement, revered Indian actors such as Amitabh Bachchan and Rajinikanth are confirmed to be in attendance. In this context, the BCCI has made the strategic decision to orchestrate a pre-match extravaganza that promises to be a glittering and celebrity-studded affair. While both teams have claimed victory in their initial two matches, Pakistan faces a formidable challenge in attempting to best India on their home turf.
Also Read: Explained: Why 'Boycott' India vs Pakistan ODI World Cup 2023 showdown is trending on social media
Last Updated Oct 13, 2023, 1:04 PM IST