Babar Azam praises Kohli, Rohit and Williamson; What sets his favourite batters apart
Babar Azam, the captain of the Pakistan cricket team, reveals his deep admiration for top cricketers Virat Kohli, Rohit Sharma, and Kane Williamson.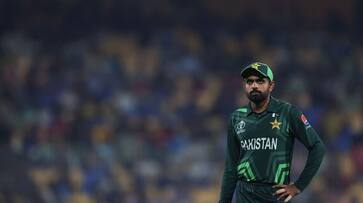 Babar Azam has selected Virat Kohli, Rohit Sharma, and Kane Williamson as some of his favourite cricketers, emphasising his admiration for their ability to excel in challenging situations. The Pakistan cricket team captain expressed his respect for these world-class batters, acknowledging their skill in reading playing conditions and their remarkable talent for guiding their teams out of tight spots. Babar, himself widely recognised as one of the world's premier batsmen, revealed his desire to learn from these cricketing stalwarts who have served their respective nations with distinction.
In a video shared by Star Sports, Babar Azam praised Virat Kohli, Rohit Sharma, and Kane Williamson as his preferred batters globally. He highlighted their capacity to interpret playing conditions effectively, attributing their excellence to this ability. He also commended their knack for rescuing their teams from challenging situations and performing admirably against formidable bowling attacks, qualities he aims to incorporate into his own game.
While cricketers like Kohli and Rohit have made significant contributions in the Cricket World Cup 2023, propelling India to an undefeated status after five matches, Kane Williamson has faced difficulties earning a spot in New Zealand's playing XI due to injury concerns. Nevertheless, the Kiwis remain strong contenders for a spot in the semi-finals.
In contrast, Pakistan's World Cup campaign hangs in the balance, with Babar Azam's team facing potential elimination. Pakistan has managed to secure only two wins out of six matches in the tournament.
Also Read: 'Proud of my Indian roots, but 100 percent Kiwi', says New Zealand star Rachin Ravindra
Last Updated Oct 29, 2023, 4:37 PM IST