'Proud of my Indian roots, but 100 percent Kiwi', says New Zealand star Rachin Ravindra
In a thrilling Cricket World Cup 2023 encounter, New Zealand's Rachin Ravindra showcased his exceptional batting skills, despite his Indian heritage. Scoring a brilliant 116 runs, Ravindra set the stage for a remarkable chase against Australia, though victory narrowly eluded the Kiwis.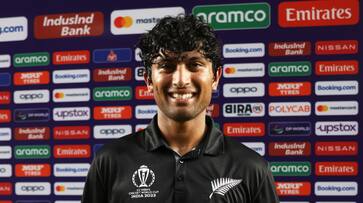 Rachin Ravindra's impressive century ultimately ended in disappointment as Australia clinched a narrow 5-run victory over New Zealand in a Cricket World Cup 2023 encounter. New Zealand's talented batsman, Rachin Ravindra, maintained his excellent form with the bat when the Kiwis faced Australia in a Cricket World Cup 2023 match on Saturday. Ravindra's brilliant 116 runs from 89 balls set the stage for New Zealand to chase down the formidable target of 389 runs. However, despite a courageous effort from Jimmy Neesham in the final overs, Australia emerged victorious. During the post-match press conference, Rachin Ravindra not only discussed his on-field performance but also addressed questions about his 'Indian roots' and the support he received from the fans.
When asked about the pressure of performing in India due to his Indian heritage, Ravindra responded, "I've been asked this question a lot, but I consider myself 100% Kiwi and take great pride in my Indian heritage. It's an honor to perform in the country where my parents were born and raised, where much of my family resides. I've had the opportunity to tour India in the past, working on improving my game. The conditions for batting are favorable, and it has contributed to my growth."
Rachin also shared his thoughts on the enthusiastic crowd support in Dharamsala, despite it being a 'neutral venue' for the New Zealand team. He remarked, "This was undoubtedly one of the best crowds we've experienced in India. The fans' response and the atmosphere were truly special. As a child, you dream of the crowd chanting your name, and it was fantastic to witness that on multiple occasions, even when Australia was batting and when Nish [Neesham] was making his late contributions. These moments are always special, and we must never take them for granted."
Despite the loss, New Zealand remains in a favourable position to qualify for the Cricket World Cup 2023 semi-finals.
Also Read: Nasser Hussain weighs in on Virat Kohli vs Sachin Tendulkar debate amidst ODI century race
Last Updated Oct 29, 2023, 2:11 PM IST