Will onion price in Karnataka breach Rs 100 mark soon? Check details
Onion prices in Karnataka are rising due to a shortage in supply caused by factors like drought and limited supplies from neighboring states. The central government is aiding by providing onions from Maharashtra through NAFED, but prices are still increasing. Experts fear prices may reach ₹280-₹1000 per kilogram unless the situation improves, impacting both consumers and farmers.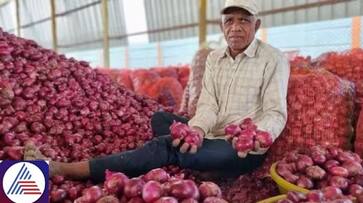 In Karnataka, there's growing concern about rising onion prices, especially following recent tomato price fluctuations. Onions are in short supply, leading to fears of higher costs. However, the central government is helping by providing onions from Maharashtra via the National Agricultural Cooperative Marketing Federation (NAFED), which has helped keep prices stable. Due to this scarcity, onions in the city are now being sold for ₹60-65 per kilogram, and traders expect prices to increase further.
Low onion production in the state, due to drought and limited supplies from neighbouring Maharashtra and Gujarat, is causing daily price hikes. Experts predict that unless the situation improves, onion prices could reach ₹280-₹1000 per kilogram soon.

Karnataka: Farmer earns whopping 1 crore rupees in 4 months growing tomatoes on 7-acre land
In the Yeswantpur agricultural market, even low-quality onions are being sold for ₹3800-₹4200 per quintal. The central government's onions supplied through NAFED for price control are at ₹4000-₹4600 per quintal. Better quality onions from Maharashtra are priced between ₹5000 and ₹6000 per quintal but in limited quantities. Retail prices are higher due to transportation and labour costs, reaching ₹250-265 per kilogram in various city markets.
Some organizations, like Hopcom in Bengaluru, charge an extra ₹25-₹10 per kilogram. Just a few weeks ago, you could get 3-4 kilograms of onions for ₹100, but now it's only one and a half to two kilograms.

Tomatoes make farmer in Karnataka's Chikkaballapur a millionaire
Reduced onion supplies are due to factors like lower rainfall in Bagalkot, Gadag, and Vijayapur in North Karnataka, as well as reduced rainfall in Maharashtra, Gujarat, and Madhya Pradesh. Supply from these states may not resume until late November or mid-December. Presently, Bengaluru is only exporting a small quantity of onions to Tamil Nadu and Andhra Pradesh, with no supply to other southern states.
To stabilize prices, the government needs to increase onion supplies through NAFED. B. Ravishankar, the secretary of the Bengaluru Potato and Onion Traders Association, predicts that onion prices may continue to rise. This situation is reminiscent of the tomato price surge two months ago when prices exceeded ₹1000 per quintal, causing concern for farmers.
Last Updated Oct 27, 2023, 4:06 PM IST