'You serious? We're fighting Nazis': Former Israel PM defends Gaza power cut in heated interview (WATCH)
Former Israeli Prime Minister Naftali Bennett defended his country's decision to cut off the power supply to the Gaza Strip in the aftermath of a Hamas attack, during a heated exchange in an interview with SkyNews.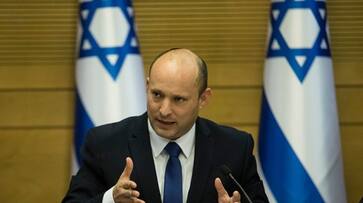 Former Israeli Prime Minister Naftali Bennett has defended his country's decision to cut off the power supply to the Gaza Strip in response to a shocking attack by Hamas on Israeli cities. He declared that Israel is "fighting Nazis" and adamantly stated that he won't provide resources to the enemy.
During an interview with SkyNews, Bennett was questioned about the impact of the power cut on healthcare facilities in Gaza, including life support systems and incubators for newborns.
Also read: Capturing tragedy in Gaza: Video of trembling hand calling for help amid Israel-Hamas war haunts the world
In a fiery response, Bennett expressed frustration, saying, "Are you serious? You keep on asking me about Palestinian civilians. What's wrong with you? Have you not seen what happened? We are fighting Nazis. We didn't target them."
Israel launched a severe counterstrike following an attack by Hamas, which controls Gaza, claimed 1,200 Israeli lives. As part of their response, the government, under Benjamin Netanyahu, imposed a siege on Gaza, cutting off power, water, and food supplies.
Bennett firmly asserted, "The world can come and bring them anything they want. I am not going to feed electricity or water to my enemies. We are not responsible for this."
The interview escalated into a heated exchange between Bennett and TV presenter Kamali Melbourne. "This is my show and I am asking the questions. You are raising your voice," Melbourne hit back.
Bennett, meanwhile, repeatedly said, "Shame on you," while accusing the presenter of promoting a "false narrative."
Also read: 6,000 bombs weighing 4,000 tonnes dropped by Israel in Gaza so far; 3,600 Hamas targets attacked (WATCH)
"I am not in the military. I am a journalist asking you questions. We have already distinguished between Hamas and Palestinians. I am asking you what is going to be done to make sure those innocent people don't get killed as innocent Jewish people were killed on Saturday," Melbourne asked.
To this, Bennett replied, "We are going to target Hamas and we are telling Hamas, if you use anyone as your human shield and shoot at us, it's your responsibility. If someone is shooting at your children and hiding behind a human shield, will you shoot back or not? What would you do."
Naftali Bennett served as Israel's Prime Minister from June 2021 to June 2022 and, as a former commando in the Israel Defense Forces, he joined reserve duty on the frontlines in response to the conflict sparked by the Hamas attack.
Last Updated Oct 13, 2023, 1:30 PM IST