WATCH: WWE-style wrestling match takes centre stage inside speeding bullet train in Japan; video goes viral
A WWE-style wrestling match unfolds inside a high-speed bullet train in Japan, captivating passengers and going viral on social media.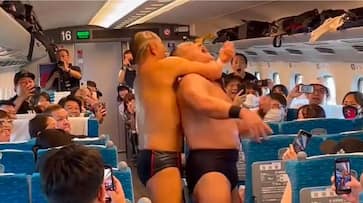 In a thrilling spectacle, two professional wrestlers engaged in a WWE-style showdown aboard a high-speed bullet train in Japan, delighting passengers with their acrobatic feats. The unique match was orchestrated by Tokyo-based DDT Pro-Wrestling, with a packed train carriage of 75 passengers as the audience, and tickets for the clash between Minoru Suzuki and Sanshiro Takagi sold out within half an hour.
The battle unfolded on a Shinkansen bullet train journey from Tokyo to Nagoya, and footage of the intense confrontation quickly went viral on social media. In the video, Suzuki and Takagi displayed remarkable athleticism, executing moves like the piledriver while grappling aboard the moving train.
Passengers enthusiastically embraced the spectacle, with many capturing the action on their smartphones. The match, lasting half an hour, provided a unique and memorable experience for those on board.
Professional wrestling enjoys immense popularity in Japan, hosting renowned figures like Hulk Hogan and Kurt Angle over the years. Additionally, Japan's traditional sport of sumo wrestling has seen a surge in interest among tourists, drawing visitors eager to glimpse the insular world of sumo.
In a recent event, a lunchtime "performance" featuring two imposing sumo practitioners was organized at a Tokyo restaurant, captivating cheering tourists. After the display, spectators had the opportunity to take selfies with the formidable athletes and even donned padded sumo costumes and wigs to engage in their own bouts against retired professionals. Tickets for this thrice-weekly event, which includes English commentary and a hearty meal, quickly sold out for the following six weeks, indicating the growing fascination with sumo wrestling among international visitors.
Last Updated Sep 20, 2023, 5:51 PM IST