WATCH: Indian man's Bollywood-style proposal to girlfriend at Auckland airport wins hearts
Indian man stages elaborate Bollywood-inspired surprise wedding proposal at Auckland airport, New Zealand, capturing hearts with a viral video.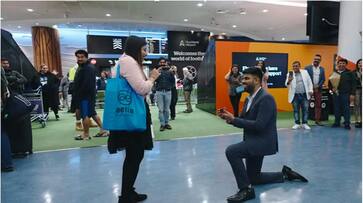 In a heartwarming gesture of love, an Indian man orchestrated a Bollywood-inspired surprise wedding proposal for his girlfriend at Auckland airport, as reported by CNN. The video capturing this innovative proposal has now gone viral on social media. Yashraj Chhabra, on August 18, went down on one knee in front of a crowd of thousands to propose to his girlfriend, Riiya Shukla. He took control of the airport's passenger announcement system to declare his love and pop the question.
Yashraj Chhabra, a banking specialist residing in Auckland, shared his motivation behind the extravagant proposal, expressing his desire to create a moment that his girlfriend would cherish forever.
Riiya Shukla, who works as a project manager in Auckland, had booked a flight from Melbourne, which became the backdrop for Yashraj's elaborate plan.
Yashraj Chhabra confessed, "She's a hard woman to surprise, and I really wanted to catch her off guard."
However, he was uncertain if such an ambitious plan would gain approval, given the numerous logistical considerations involved. "I wasn't sure if Auckland Airport would go for it, but I was delighted they said yes to making my dream proposal become a reality," he shared.
To bring this dream proposal to life, Yashraj Chhabra embarked on a determined quest, reaching out to various airport contacts via cold calls and LinkedIn messages. The multifaceted layers of airport protocol posed a formidable challenge.
Finally, he connected with Laura Platts, the communications manager at Auckland Airport, who played a pivotal role in helping him coordinate logistics such as cake, flowers, and the presence of their families at the airport.
The entire proposal was documented by a professional crew and subsequently shared on the airport's social media platforms.
Yashraj Chhabra disclosed that he had been preparing for this momentous occasion for a month.
However, the day presented challenges for Riiya Shukla. Firstly, her flight was rescheduled to August 18, and she found herself racing against traffic to make it to the airport in time.
Upon arriving in Auckland, she discovered that her luggage had not made it to her destination. She intended to visit the service counter to lodge a complaint, but her family members insisted that she abandon her concern for her bags and instead join them outside the airport.
When she emerged, she was met with the sight of Yashraj Chhabra on one knee, with their loved ones standing behind him, holding up signs spelling out "will you marry me?" Simultaneously, his pre-recorded proposal played over the airport's public address system.
Overwhelmed by the surprise, Riiya Shukla recounted, "I was under shock. I tend to get lost in his eyes, and as romantic as this sounds, it's actually true. I do. For a while, it just felt like it was just us. Then, all of our family and friends came, and they all hugged us. It was pretty magical."
The couple now plans to celebrate their wedding in India.
Last Updated Sep 4, 2023, 3:17 PM IST