Viral photo: Biden hugs Israeli woman who tricked Hamas operatives with cookies, coffee
A 65-year-old Israeli woman Rachel Edri served Hamas operatives coffee and Moroccan cookies to trick them until police came in and killed them. She was one of several Israelis invited to meet with US President Joe Biden during his visit to Israel.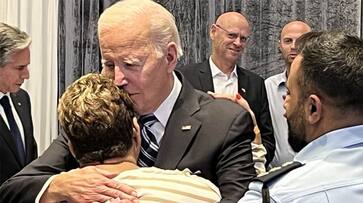 The 65-year-old Israeli Rachel Edri tricked the Hamas operatives into thinking they were Moroccan cookies and coffee when they barged into her living room brandishing explosives. This allowed the police to murder them. According to The New York Post, Rachel Edri was saved by her son, a police officer, who discovered his mother had been kept captive for 20 hours at their residence by an armed terrorist. 
And today Rachel is an odd folk hero in Israel thanks to her story of witty survival during the Israel-Hamas war. During his tour to Israel, US President Joe Biden extended an invitation to her and other Israelis for a meeting. Joe Biden congratulated Rachel Edri for defending the nation while she smiled and gave him a hug.
Also Read | Israel-Palestine war: Protesters take over US Capitol, demand ceasefire in Gaza; 300 arrested (WATCH)
Earlier, information of Rachel's rescue came to light. It wasn't until Rachel's son entered his parents' house brandishing a weapon that he realised his mother was being held prisoner by an operative around her neck. Rachel and her husband David were being kept captive by operatives. According to ABC News' account, the operator threatened to murder her while brandishing a grenade in his other hand. 
With five fingers stretched over her face, Rachel communicated to her son that there were five people holding hostages in her house. The report further stated that a Special Weapons And Tactics (SWAT) team convinced Evyatar (Her son) to retreat, and they took over the rescue. 
Also Read | 'Egypt has agreed to open Rafah crossing to allow aid trucks into Gaza': US President Joe Biden
Rachel and David described how they survived the 20-hour using their wits, which included her cooking for her captors and keeping them occupied with coffee and cookies and also asking for Arabic lessons.
Speaking to he media, Rachel said, "I knew that if they are hungry, they are angry. I tried to divert their attention from the fact that my children are police officers by telling him I had to inject insulin... I offered them water and Coke Zero to drink." She narrated how she made jokes with her captors, saying, "You teach me Arabic, and I'll teach you Hebrew." 
The couple was eventually saved around midnight when the SWAT squad arrived to save them. 
Also Read | Explained: How Israel-Hamas conflict could give Russia's Putin more money to fund war in Ukraine
On Wednesday, Biden travelled to Israel to show support in the wake of the Hamas strikes, assess Israel's war goals, and attempt to keep things from spiralling out of control into a regional confrontation. He advised Israel to exercise caution in its efforts to neutralise the Hamas threat. "In the US, we were furious following 9/11. We committed mistakes as we pursued justice," he added.
Last Updated Oct 19, 2023, 11:45 AM IST