Ohio Issue 1 Election Results: Abortion rights to enter state constitution
This amendment grants individuals the "right to make and carry out one's own reproductive decisions," including the right to have an abortion. The vote on this amendment was seen as a significant test of the future of abortion rights, with Ohio being the first Republican-led state to consider a constitutional guarantee of this right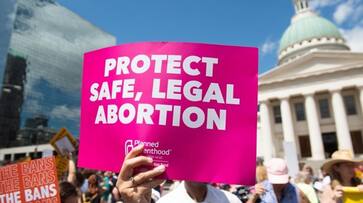 The state of Ohio in the United States has approved the inclusion of a constitutional right to abortion, marking another victory for abortion-rights groups in a series of successful ballot measures. The passage of this amendment now establishes the "right to make and implement one's own reproductive choices," including the right to undergo an abortion. This vote was seen as a crucial indicator of whether abortion rights would remain a pivotal issue in the lead-up to the 2024 elections. In the wake of the Supreme Court's reversal of the nationwide abortion right last year, a string of votes has favoured pro-choice advocates.
Ohio previously enacted a six-week abortion ban, but its enforcement was temporarily halted by a court order. The election results on Tuesday are expected to make it challenging to reinstate this ban. Currently, the most effective method of safeguarding the right to abortion is by incorporating it into state constitutions. As a result, various abortion-related ballot referendums are being developed nationwide, even in politically diverse states such as Arizona and Florida. In 2024, over a dozen states may ultimately vote on issues related to abortion.
Opinion polls indicated that a majority of Ohio residents intended to support the abortion amendment. However, Issue 1, as the ballot measure is known, was widely recognized as the most challenging battle thus far for proponents of abortion rights.
Since the Supreme Court's decision overturning Roe vs Wade, which had guaranteed abortion access across the United States, abortion access has emerged victorious in all six ballot measures. Notably, Ohio is the first Republican-led state to contemplate amending its constitution to explicitly safeguard this right.
Arguments For and Against
Opponents of the amendment have emphasized this aspect of the amendment, contending that Issue 1 would permit "late-term abortions," a non-medical term referring to abortions performed later in pregnancy. Supporters of Issue 1, on the other hand, have countered that any late-term abortions would necessitate approval from a qualified medical professional, only when there are severe health concerns. They argue that the government should not intervene in private medical decisions.
Last Updated Nov 8, 2023, 8:05 AM IST