Macron says countries fighting ISIS should 'fight against Hamas'; Netanyahu cautions the West (WATCH)
French President Emmanuel Macron on Tuesday called for the international coalition fighting the Islamic State group to be expanded to also fight Hamas after the October 7 attacks on Israel.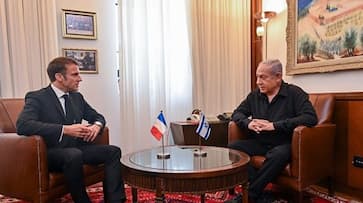 French President Emmanuel Macron on Tuesday has called for the international coalition fighting the Islamic State group to expand its scope and also address the issue of Hamas following the attacks on Israel on October 7. Macron made this statement after holding talks with Israeli Prime Minister Benjamin Netanyahu in Jerusalem. He emphasised that nations currently engaged in combating ISIS should also consider dealing with the issue of Hamas.
Also read: Israel-Hamas war: Macron meets families of kidnapped Israelis with French citizenship in Tel Aviv (WATCH)
The French leader stressed the importance of a "decisive relaunch" of the Palestinian peace process, particularly in the wake of the crisis triggered by the deadly attacks by Hamas and Israel's response.
"You are not alone, we acted against ISIS. We will also act together against this terrorism," said Macron in a joint press conference along with Netanyahu.
"The security of Israel is not negotiable; France and Israel have a common enemy. Terrorism must be fought mercilessly, but taking into account the laws. The international coalition against ISIS must also fight Hamas," the French President added.
Macron also called on Iran and Hezbollah "not to open another front."
Meanwhile, Israeli PM said, "President Macron, thank you for coming to Israel. Your support and that of your delegation is highly appreciated. On October 7, Hamas waged war against Israel. It was the worst terrorist attack the world has known since 9/11. But for Israel proportionately it was like 20 9/11s. It was the worst act of anticipated violence since the Holocaust."
"The test for the West, and for civilization is Hamas," Netanyahu added. "If Hamas emerges victorious we will all lose. Europe will be in danger. Everyone will be in danger."
Earlier today, Macron met with the families of kidnapped Israeli citizens who also hold French citizenship in Tel Aviv. His visit comes more than two weeks after Hamas operatives entered Israel from the Gaza Strip, resulting in the deaths of at least 1,400 people, primarily civilians who were either shot, mutilated, or burned to death on the first day of the raid, according to Israeli officials. Among the victims were 30 French citizens.
Also read: 'Contact details are...': Israel promises reward and confidentiality for information on hostages held in Gaza
The meeting, held in a climate of deep concern and anticipation, aimed to address the plight of several Israeli nationals who have been held in captivity by Hamas. These individuals, who possess both Israeli and French citizenship, have faced the harrowing ordeal of being separated from their families and loved ones since the terrorist group launched an attack on Israel on October 7.
Macron's visit signifies the importance of international diplomacy and cooperation in addressing complex and sensitive issues such as hostage situations. It highlights the collaboration between France and Israel in their efforts to resolve the predicament of these citizens kidnapped by Hamas.
Last Updated Oct 24, 2023, 6:24 PM IST