'Contact details are...': Israel promises reward and confidentiality for information on hostages held in Gaza
The article discusses the Israeli military's appeal for information on Israeli hostages held by Hamas in the Gaza Strip, offering rewards and protection to informants.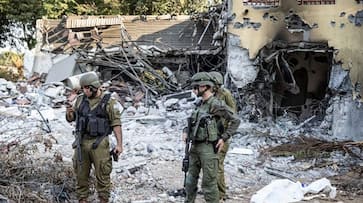 The Israel Defence Forces (IDF) have made a public appeal to residents of the Gaza Strip, urging them to provide crucial information about the whereabouts of Israeli hostages held by Hamas. In a post on social media on Tuesday, the IDF has offered monetary rewards for accurate and actionable information that could lead to the rescue of these hostages.
The IDF has also assured individuals who come forward with information of protection and confidentiality. They emphasised their commitment to ensuring the safety of informants and their families while promising complete anonymity.
Also read: 'Went through hell': 85-year-old Israeli hostage Lifschitz breaks her silence after Hamas captivity (WATCH)
At present, approximately 220 hostages are still in the custody of Hamas, a terrorist organisation in control of the Gaza Strip.
"If your will is to live in peace and to have a better future for your children, do the humanitarian deed immediately and share verified and valuable information about hostages being held in your area," the IDF said.
"The Israeli military assures you that it will invest maximum effort in providing security for you and your home, and you will receive a financial reward.  We guarantee you complete confidentiality," it said.
"The contact details are: Secure phone call: 8619 WhatsApp, Telegram, Signal: +972503957992," the IDF said in the post on X, which also has the same message in Arabic.
Israel has continued to conduct military operations targeting Hamas sites within the densely populated Gaza Strip. They have accused Hamas of using civilians as shields by locating rocket launch sites near residential areas.
Recently, two elderly hostages held by Hamas were airlifted to an Israeli hospital to be reunited with their families. The United States has also called for the release of more than 200 other captives before ceasefire talks in Gaza can be considered.
Hamas initiated an incursion into Israel from the Gaza Strip on October 7, leading to a significant loss of life, including over 1,400 casualties, mostly civilians, on the first day, according to Israeli officials.
Among those taken hostage by Hamas are 222 individuals, including the elderly and young children, and some of them hold dual nationalities or are foreign citizens.
Also read: Explained: Why IDF is not inside Gaza yet and how Hezbollah could reshape Israel-Hamas war
In retaliation, Israeli airstrikes have resulted in the deaths of more than 5,000 Palestinians, primarily civilians, across the Gaza Strip, according to figures from the Hamas health ministry in Gaza.
Two elderly hostages, Nurit Cooper (79) and Yocheved Lifshitz (85), along with their husbands, were among those captured by Hamas on October 7. Hamas released Cooper and Lifshitz for "compelling humanitarian" reasons after mediation by Qatar and Egypt. This release follows the recent freedom of a US mother and daughter held by the group.
Last Updated Oct 24, 2023, 6:04 PM IST