Israel-Hamas war: Macron meets families of kidnapped Israelis with French citizenship in Tel Aviv (WATCH)
President of France Emmanuel Macron arrived in Tel Aviv on Tuesday to express solidarity with Israel amid the ongoing war with Hamas. During his visit, he met with the families of kidnapped Israelis who hold a French citizenship.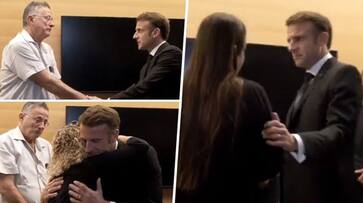 In a significant diplomatic move, French President Emmanuel Macron embarked on an official visit to Israel amid the ongoing war with Palestinian terrorist group Hamas, where he met with the families of kidnapped Israeli citizens who also hold French citizenship. Macron's visit underscored the French government's commitment to supporting its citizens abroad and addressing international concerns. His visit comes more than two weeks after Hamas operatives entered Israel from the Gaza Strip, resulting in the deaths of at least 1,400 people, primarily civilians who were either shot, mutilated, or burned to death on the first day of the raid, according to Israeli officials. Among the victims were 30 French citizens.
Also read: Israel-Hamas war: French President Macron in Tel Aviv to express 'full solidarity' (WATCH)
The meeting, held in a climate of deep concern and anticipation, aimed to address the plight of several Israeli nationals who have been held in captivity by Hamas. These individuals, who possess both Israeli and French citizenship, have faced the harrowing ordeal of being separated from their families and loved ones since the terrorist group launched an attack on Israel on October 7.
The families of the kidnapped citizens, caught in the heart-wrenching ordeal of their loved ones' captivity, had the opportunity to discuss the situation with President Macron. They were able to convey their anguish, their hopes, and their appeals for the safe and swift return of their family members.
Macron's visit signifies the importance of international diplomacy and cooperation in addressing complex and sensitive issues such as hostage situations. It highlights the collaboration between France and Israel in their efforts to resolve the predicament of these citizens kidnapped by Hamas.
Macron's scheduled meetings included discussions with Israeli Prime Minister Benjamin Netanyahu to convey France's unwavering support for Israel in the aftermath of the attack. He is also expected to call for the protection of the civilian population in Gaza as Israel continues its extensive bombardment and prepared for a potential ground invasion of the densely populated Palestinian territory.
Also read: 'Bring my baby back home': Mother of French-Israel's woman in Hamas hostage video appeals (WATCH)
According to the Hamas-run health ministry, over 5,000 people, the majority of whom were women and children, have lost their lives during Israel's military operations. 
In addition to meetings with Prime Minister Netanyahu, Macron is expected to hold a joint press conference. He is also scheduled to meet with Israeli President Isaac Herzog, as well as opposition leaders Benny Gantz and Yair Lapid in Jerusalem. 
Last Updated Oct 24, 2023, 1:31 PM IST