Israeli soldiers blow up Parliament building in Gaza (WATCH)
The IDF's Golani Brigade captured Gaza's Parliament, as depicted in circulating images on social media. This development aligns with Israeli Defense Minister Yoav Galant's statement that Hamas no longer maintains control over the Gaza Strip, leading to civilians looting Hamas bases amid the IDF's advancement.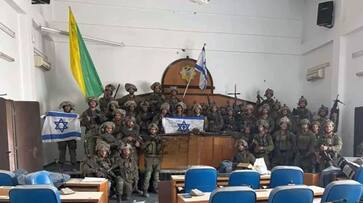 A video circulating on social media shows Israeli troops demolishing the parliament building in Gaza days after the Israeli Defense Forces seized control of the complex. Israeli media outlets reported the destruction after members of the Golani Brigade took control of the site. i24NEWS shared a video on social media, asserting that the parliament building was destroyed. 
Despite some users pointing out that the video depicted a different building being blown up, the authenticity was confirmed by Prime Minister Benjamin Netanyahu's spokesperson, Ofir Gendelman. Gendelman posted a minute-long video of the demolition on X, formerly Twitter, showing the heavily damaged building exploding in smoke and dust, with IDF troops nearby cheering.
Gendelman stated, "Today, our ground forces blew up the headquarters of the Hamas Legislative Council in the Gaza Strip as part of destroying the Hamas regime of oppression and terrorism." The Legislative Council, situated on Omar al-Mukhtar Street in central Gaza City, has been largely inactive since 2007 when Hamas assumed power in Gaza, separating from the Fatah movement in the West Bank. 
The IDF's Golani Brigade successfully seized Gaza's Parliament, a development substantiated by circulated images on social media showing troops inside the parliament building. 
This aligns with Israeli Defense Minister Yoav Galant's proclamation that Hamas has lost control over the Gaza Strip, prompting civilians to loot Hamas bases amidst the IDF's advancing operations. In the ongoing offensive against the Palestinian militant group, the Israeli military deems Gaza's parliament and civilian ministries as legitimate targets.
The photos of IDF's Golani Brigade inside the parliament building emerged following Galant's statement, emphasizing the diminished control of Hamas in Gaza. Galant asserted, "Hamas has lost control of Gaza - terrorists are fleeing south, civilians are looting Hamas bases." 
He further emphasized the IDF's unrestrained advancement, stating that no power of Hamas could impede them. The Hamas organization, according to Galant, has forfeited control over Gaza, leading to terrorists fleeing and civilians looting their bases. This underscores the erosion of confidence in the Hamas government within the region. 
The Israeli military's strategic considerations encompass targeting Hamas-controlled institutions in its ongoing efforts against the militant group.
Last Updated Nov 16, 2023, 2:46 PM IST