Israel eliminates Hamas' Aerial Array Head Abu Rakaba as IDF strikes 150 'underground targets' (WATCH)
Israeli Defense Forces struck 150 underground targets in the northern Gaza Strip overnight, a spokesperson for the IDF claimed Saturday. Meanwhile, IDF claimed it struck Asem Abu Rakaba, the Head of Hamas' Aerial Array. "Abu Rakaba was responsible for Hamas' UAVs, drones, paragliders, aerial detection and defense," IDF wrote on X.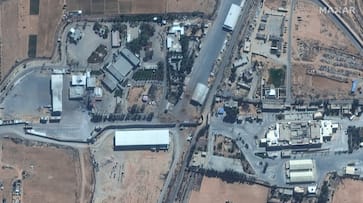 Israeli fighter jets struck 150 "underground targets" in northern Gaza during an intense night of raids, the army said Saturday, three weeks after the deadliest attack in the country's history. According to a military statement, "terror tunnels, underground combat spaces, and additional underground infrastructure" were among the locations that were struck. Moreover, a number of Hamas militants were eliminated.
In a separate statement, the Israeli military said one raid had killed Hamas air attacks chief Asem Abu Rakaba, who it said played a key role in the October 7 attacks that set off the current war. 
Also Read | Hamas vows 'full force' after Israel steps up Gaza ground operations
The Israeli military claims that Abu Rakaba was in charge of Hamas drones, paragliders, aerial defence, and aerial detection. "He directed the terrorists who infiltrated Israel on paragliders and was responsible for the drone attacks on IDF (Israel Defence Forces) posts," stated a statement.
Also Read | India among 45 nations that abstained from voting at UNGA on Jordan's resolution on Gaza ceasefire
Meanwhile, the UN General Assembly called for `humanitarian truce' in Gaza leading to halt in Israel-Hamas fighting. The resolution was adopted with 120 nations voting in its favour, 14 against it and 45 abstaining. 
The resolution titled "Protection of civilians and upholding legal and humanitarian obligations" was overwhelmingly adopted with 120 nations voting in its favour, 14 against it and 45 abstaining. Besides India, countries that abstained included Australia, Canada, Germany, Japan, Ukraine and the UK.
Also Read | UN General Assembly adopts Gaza resolution, calls for immediate and sustained 'humanitarian truce'
Last Updated Oct 28, 2023, 12:15 PM IST