India among 45 nations that abstained from voting at UNGA on Jordan's resolution on Gaza ceasefire
India was among 45 countries that abstained from voting on a non-binding resolution for a Gaza ceasefire, which did not explicitly address the violence initiated by a terror group on October 7. Introduced by Jordan, the resolution passed with support from 120 countries, while 14, including the United States and Israel, voted against it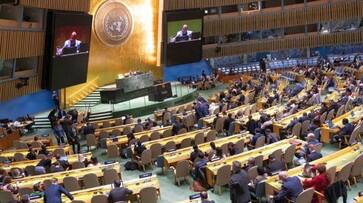 India was among the 45 countries that abstained during voting on the resolution calling for a Gaza ceasefire but made no mention of the barbarity unleashed by the Hamas terror group on October 7. The resolution, introduced by Jordan, was overwhelmingly passed in the United Nations General Assembly. In a vote, 120 countries supported a non-binding resolution introduced by Jordan, while 14 countries, including the United States, Austria, Croatia, Czechia, Fiji, Guatemala, Hungary, Israel, Marshall Islands, Micronesia, Nauru, Papua New Guinea, Paraguay, and Tonga, voted against it. Additionally, 45 countries, including Australia, Canada, Finland, Germany, Greece, India, Iraq, Italy, Japan, the Netherlands, Poland, South Korea, Sweden, Tunisia, Ukraine, and the United Kingdom, abstained from voting.
The resolution calls for an immediate ceasefire in Gaza, the release of all civilians, the protection of civilians and international institutions, and ensuring the safe passage of humanitarian aid into the Gaza Strip. While the resolution is non-binding, it carries symbolic weight and reflects the widespread international support for the Palestinians in the midst of Israel's military campaign that followed the October 7 Hamas attacks.
Canada had attempted to add an amendment to the resolution, seeking to condemn Hamas. While a majority of members supported the proposal, it did not reach the two-thirds majority required for adoption.
The resolution underscores the need for an "immediate, durable and sustained humanitarian truce leading to a cessation of hostilities" and condemns all acts of violence against Palestinian and Israeli civilians, including acts of terror and indiscriminate attacks, as well as acts of provocation, incitement, and destruction. It calls for the entry of supplies, including fuel, into the Gaza Strip, demands that Israel rescind its evacuation order for Palestinians in northern Gaza, and emphasizes the importance of all parties exercising maximum restraint.
Notably, the resolution does not specifically mention Hamas or condemn it for the October 7 terrorist attacks. It also does not affirm Israel's right to self-defense or mention rocket attacks by Hamas and other militant groups on Israel. Despite the passage of the resolution, Israel conducted extensive air raids and artillery strikes on Gaza, resulting in a significant number of casualties. According to the Palestinian Ministry of Health in Ramallah, more than 7,000 Palestinians in Gaza have been killed since the start of the conflict.
Last Updated Oct 28, 2023, 2:16 AM IST