UN General Assembly adopts Gaza resolution, calls for immediate and sustained 'humanitarian truce'
With a vote of 120 in favour, 14 against, and 45 abstentions, the resolution marks a pivotal diplomatic response to the unfolding crisis in Gaza. The resolution comes as Israel has escalated ground operations and intensified its bombing campaign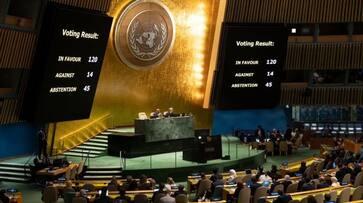 The United Nations General Assembly has adopted a resolution in response to the escalating conflict between Israeli forces and Hamas militants in Gaza. This resolution, presented by Jordan, called for an "immediate, durable, and sustained humanitarian truce" in the region. It emphasized the urgent need for continuous, sufficient, and unimpeded delivery of life-saving supplies and services to the besieged civilian population in Gaza. 
This development comes at a time when reports indicate that Israel has not only expanded its ground operations but has also intensified its bombing campaign in the area. The resolution was approved by the General Assembly with 120 member states voting in favour, 14 against, and 45 abstentions. 
This adoption represents a crucial diplomatic response, serving as the first formal action by the United Nations in the face of the ongoing hostilities, which were further exacerbated by the Hamas terror attacks on October 7. Notably, the United Nations Security Council had previously struggled to reach a consensus on taking any action regarding the situation on four separate occasions.
The core provisions of the resolution hold immense importance. It unequivocally calls for an "immediate, durable, and sustained humanitarian truce" and underscores the paramount significance of adhering to international humanitarian law. It also stresses the vital need to ensure the unimpeded flow of essential supplies and services into Gaza, given the dire humanitarian situation on the ground.
Furthermore, a crucial aspect of the resolution is its call for the "immediate and unconditional release" of all civilians held captive, in accordance with international law. This emphasizes the imperative of ensuring their safety, well-being, and humane treatment, a particularly pertinent issue in a conflict marked by its devastating impact on civilians.
The resolution has garnered substantial support from more than 40 UN Member States, including countries like Egypt, Oman, and the UAE. This broad endorsement underscores the widespread international concern regarding the dire humanitarian conditions in Gaza and the urgency of addressing these issues collectively.
It's important to note that while the resolution does not specifically reference the Hamas terror attacks on October 7, it instead prioritizes the pressing need for a humanitarian truce, adherence to international humanitarian law, and the humane treatment of civilians in this ongoing conflict. 
Last Updated Oct 28, 2023, 1:56 AM IST