Israel's construction sector eyes replacing Palestinian employees with up to 100,000 Indian workers (WATCH)
Amid the cancellation of Palestinian work permits, Israel proposes the hiring of Indian workers to fill labor shortages, impacting construction and vital sectors.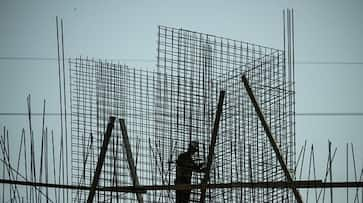 Amid the recent cancellation of work permits for tens of thousands of Palestinian workers in Israel, the Israeli construction sector has sought to address the resultant labour shortage by proposing the hiring of a substantial number of workers from India. This initiative aims to fill the void left by the absence of Palestinian workers, impacting various industries following the work permit cancellations since the Israel-Hamas war that began on October 7.
Reportedly, the Israeli Builders Association has appealed to the government to permit the hiring of up to 100,000 workers from India. This proposal comes in the wake of approximately 90,000 Palestinians losing their work permits, primarily in the construction and other vital sectors, following the onset of conflict.
Also read: Israel arrests prominent Palestinian activist Ahed Tamimi for 'inciting terrorism' amid Gaza conflict (WATCH)
Haim Feiglin, the Vice President of the Israeli Builders Association, emphasised the ongoing negotiations with India, awaiting the Israeli government's decision to greenlight the employment initiative. The intended goal is to engage a workforce from India ranging between 50,000 to 100,000 individuals.
"Right now we are negotiating with India. We are waiting for a decision of the Israeli government to approve that. We hope to engage 50,000 to 1,00,000 workers from India to be able to run all sectors and bring it back to normal," he said.
The move to recruit Indian workers seeks to address the immediate challenges posed by the absence of Palestinian labour in critical sectors, even as the war between Israel and Hamas in Gaza rages on. The construction industry, in particular, heavily relies on these workers, and the sudden withdrawal of work permits has created a pressing need for alternative labour sources to sustain ongoing projects and operations.
Also read: Barack Obama dubs Hamas' atrocities as 'horrific'; calls Palestinians plight 'unbearable' (WATCH)
This appeal from Israeli construction authorities underscores the significance of foreign labour to maintain essential sectors within the country. The proposal to integrate a substantial number of Indian workers aims to bridge the gap in the workforce, fostering continuity and stability in various industries impacted by the abrupt absence of Palestinian labour.
Last Updated Nov 6, 2023, 5:49 PM IST