Barack Obama dubs Hamas' atrocities as 'horrific'; calls Palestinians plight 'unbearable' (WATCH)
Former US President Barack Obama has called on Americans to "take in the whole truth" about the war between Israel and Hamas, saying that everyone has some responsibility for the conflict.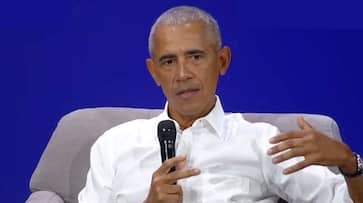 The unprecedented attack on Israel by the Palestinian terror group Hamas last month was sharply denounced by former US President Barack Obama, who said there was no "justification" for such "horrific" conduct. He also highlighted the "unbearable" situation of Palestinians in Gaza due to what he called "occupation" and said "nobody's hands were clean".
Barack Obama stated, "If there's any chance of us being able to act constructively, to do something, it will require an admission of complexity," Barack Obama said on a panel hosted by the Pod Save America podcast manned by his former administration staffers. A video clip of the former US President's remarks was posted on X on Saturday.
Also Read | Israel-Hamas war: 'Gaza strip cut into two,' says Israeli Army amid 'significant strikes'
Barack Obama noted that there were individuals "dying right now, who had nothing to do with what Hamas did" and urged people to "take in the whole truth" about the situation.
"That Hamas committed heinous crimes for which there is no excuse. Furthermore, it is unconscionable what the Palestinian people are going through under the occupation," he stated.
Earlier on Friday, Barack Obama weighed in on the Gaza conflict, saying that Israel's actions that ignored the human cost of the war against Hamas "could ultimately backfire", US newspaper Politico reported.
Also read: Israel-Hamas war: IDF says 2500 terror targets destroyed since Gaza ground operation began (WATCH)
The Israel-Hamas war started on October 7 when Hamas launched a multipronged attack on Israel by air, land, and sea, killing over 1,400 people and taking 240 civilians hostage. Almost a month later, the UN and world powers have yet to agree on how to handle the conflict.
In response, Israel launched a vicious counteroffensive, expanding its ground operations in the heavily populated Palestinian enclave, hitting Gaza from the air, and enforcing a blockade. About 9,500 people have died as a result of the catastrophic blows.
Also Read | Israeli minister says dropping atom bomb on Gaza a 'possibility'; Netanyahu suspends him amid outrage
Last Updated Nov 6, 2023, 10:03 AM IST