Iranian lawmakers approve Bill to punish women for violating Islamic dress code; jail term up to 10 years
Iranian lawmakers pass a bill to increase penalties for women violating the Islamic dress code, potentially imposing jail terms of up to 10 years, amidst ongoing protests and enforcement measures.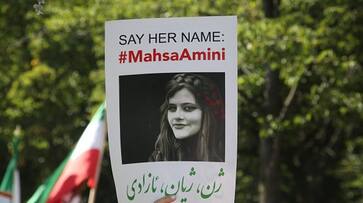 Iranian lawmakers have approved a bill on Wednesday aimed at increasing penalties for women who do not adhere to the Islamic dress code, with potential jail terms of up to 10 years, according to state media reports. The legislative assembly has given the green light to the "Support for the Culture of Hijab and Chastity" bill, which will undergo a trial period of three years, as reported by the official IRNA news agency. It's worth noting that the bill still requires approval from the Guardian Council.
In Iran, women have been increasingly challenging the country's strict dress code, which mandates head coverings and modest attire, particularly since last year's mass protests. These demonstrations erupted following the tragic death of 22-year-old Mahsa Amini, who had been arrested for alleged violations of the dress code.
The protests resulted in hundreds of casualties, including the deaths of numerous security personnel, and led to the arrests of thousands of individuals, which government officials attributed to foreign-instigated "riots."
The draft law, if enacted, will impose significant penalties on women who fail to wear a headscarf or appropriate clothing while being accused of collaborating "with foreign or hostile governments, media, groups, or organizations." Offenders could face imprisonment ranging from five to 10 years.
Since the early years following the 1979 Islamic revolution, it has been mandatory for women in Iran to cover their heads and necks.
In recent months, authorities and police patrols have intensified efforts to enforce the dress code, taking measures against both women and businesses that do not comply. Non-compliant businesses have been shut down, and surveillance cameras have been installed in public places to monitor and enforce dress code violations.
Last Updated Sep 20, 2023, 3:27 PM IST