'If larger nations violate international law...' Canadian PM Trudeau targets India again over Nijjar killing
Justin Trudeau refrained from confirming whether evidence linking Indian agents to the killing was shared, emphasizing the need for collaboration with Indian authorities. He expressed disappointment over India revoking diplomatic immunity for Canadian diplomats, citing a violation of the Vienna Convention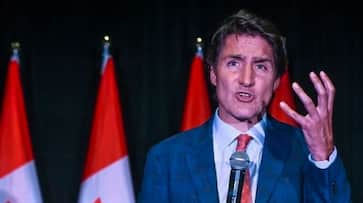 Canadian Prime Minister Justin Trudeau has once again triggered controversy with his comments on the killing of Khalistani terrorist Hardeep Singh Nijjar. Trudeau declined to clarify whether evidence linking Indian agents to the Sikh extremist's killing had been shared with New Delhi. Addressing a media briefing, Trudeau mentioned that his administration had approached Indian authorities, urging collaboration to investigate the matter thoroughly. Emphasizing Canada's commitment to the rule of law, he cautioned against might overriding right, highlighting the global dangers if larger countries violate international law without consequences.
Trudeau expressed disappointment over India's revocation of diplomatic immunity for more than 40 Canadian diplomats, characterizing it as an "arbitrary" move that violated the Vienna Convention. He conveyed Canada's intent to continue positive engagement with India, underlining a reluctance to engage in the current dispute.
These comments followed the United States' recent call for India to cooperate with Canada in the Nijjar killing investigation. US Secretary of State Antony Blinken, recognizing India and Canada as "closest friends," stressed the importance of resolving disputes collaboratively.
Bilateral relations between India and Canada soured after Trudeau alleged a potential link between Indian government agents and Nijjar's killing in September. The fallout included the expulsion of senior diplomats on both sides, India suspending visa services for Canadians, and a diplomatic presence restructuring.
As Blinken urged resolution between the two nations, he acknowledged discussing the matter with Indian counterparts. The US positioned itself as a mediator, encouraging India to work with Canada on the investigation and fostering an amicable resolution to their differences.
The ongoing diplomatic tensions underscore the complex dynamics between India, Canada, and the United States, with the rule of law, diplomatic conventions, and cooperative resolution taking center stage in this international dispute.
Last Updated Nov 12, 2023, 2:04 PM IST