Gaza residents flee with mattresses strapped to cars after Israel's evacuation ultimatum (WATCH)
The article discusses the urgent evacuation of Gaza residents in response to Israel's military ultimatum and highlights the challenges and humanitarian concerns amid the ongoing Israel-Hamas war.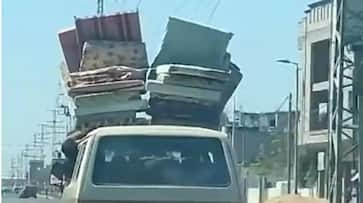 In response to Israel's military issuing a 24-hour ultimatum for Gaza residents to relocate south, some have begun leaving their homes in anticipation of a potential ground invasion that could lead to high casualties. Videos depict civilians packing their belongings, including clothes and mattresses, onto the roofs of their cars as they evacuate the area they have called home for years.
Also read: As Hamas denies war crimes, Israel provides proof of it being a 'genocidal terrorist organisation' (WATCH) 
According to a post by a reporter on Palestinian Affairs on X, formerly, Twitter, the visuals are from North Gaza. "Residents in North Gaza (Gaza City, Beit Lahia, Beit Hanoun, and Jabalia RC) are evacuating their homes in response to the Israeli military's threat that those who stay could face deadly consequences," noted the journalist in the caption of his post.
Israel's military has mobilized 300,000 reservists and assembled tanks, vowing to conduct significant operations in the coming days following a devastating attack by the Palestinian group Hamas. The military's statement urged Gaza City's civilians to evacuate south, emphasizing the need for their safety and the safety of their families while accusing Hamas of using them as human shields.
"The IDF calls for the evacuation of all civilians of Gaza City from their homes southwards for their own safety and protection and move to the area south of the Wadi Gaza, as shown on the map," it said in an announcement made on Friday.
"The Hamas terrorist organization waged a war against the State of Israel and Gaza City is an area where military operations take place. This evacuation is for your own safety. You will be able to return to Gaza City only when another announcement permitting it is made. Do not approach the area of the security fence with the State of Israel," the IDF added.
Also read: Capturing tragedy in Gaza: Video of trembling hand calling for help amid Israel-Hamas war haunts the world
"Hamas terrorists are hiding in Gaza City inside tunnels underneath houses and inside buildings populated with innocent Gazan civilians. Civilians of Gaza City, evacuate south for your own safety and the safety of your families and distance yourself from Hamas terrorists who are using you as human shields. In the following days, the IDF will continue to operate significantly in Gaza City and make extensive efforts to avoid harming civilians," the statement further stated.
The United Nations has expressed concerns about the impossibility of evacuating everyone from Gaza, as power supplies have been cut and essential resources like food and water have dwindled in the Palestinian enclave. This situation follows a week of retaliatory airstrikes and a complete Israeli blockade.
The World Health Organization (WHO) has voiced its apprehension regarding the evacuation order by Israel. Local health authorities have informed the WHO that evacuating vulnerable hospital patients from northern Gaza is practically impossible.
"There are severely ill people whose injuries mean their only chances of survival is being on life support, such as mechanical ventilators," said WHO spokesperson Tarik Jasarevic.
"So moving those people is a death sentence. Asking health workers to do so is beyond cruel," he said.
The attack by Hamas on Saturday resulted in the deaths of over 1,300 Israelis, while over 1,500 Palestinians have lost their lives in subsequent retaliatory actions.
Last Updated Oct 13, 2023, 4:57 PM IST