French police open fire at woman who threatened to blow up a train station in Paris (WATCH)
French counter-terrorism police opened fire at the Bibliothèque François-Mitterrand station of Paris on Tuesday morning after a woman threatened to detonate a bomb after screaming "Allahu Akbar". She reportedly refused to obey Police orders.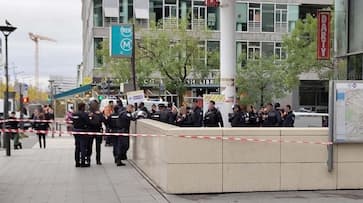 French counter-terrorism police on Tuesday shot a woman who was reportedly threatening passers-by in southern Paris. The incident occurred at 8:30 and 9:30 am on the RER C line in central Paris, at the Bibliothèque François Mitterrand stop, in the 13th district. Citing a police source, AFP reported that police were warned by calls from passengers who indicated a "completely veiled" woman who was "uttering threats".
The woman, who was wearing a veil, reportedly threatened to detonate an explosive device. When she refused to comply with police orders, they opened fire. The woman, who was reportedly heard shouting 'Allahu Akbar', sustained a gunshot wound to the abdomen and is in critical but stable condition. 
The Paris prosecutor's office stated that the woman threatened "to blow herself up", adding that police fired one shot.
The station has been shut down, and law enforcement has established a security perimeter in the area.
Authorities have initiated two separate investigations, as confirmed by prosecutors. One inquiry will focus on the actions of the woman involved, while the other aims to determine the justification for the police's use of a firearm.
This incident took place amid heightened tensions in France due to the Israel-Hamas war. Earlier in the month, a teacher was killed, and two individuals were seriously injured at a school in northern France by an attacker who reportedly shouted "Allahu Akbar." In response to this attack, France raised its counter-terrorism security alert to the highest level.
Last Updated Oct 31, 2023, 5:50 PM IST