Dramatic videos show large crack in the heart of Iceland town as volcanic eruption looms (WATCH)
Iceland faces heightened seismic activity with fears of a volcanic eruption, leading to evacuations, travel advisories, and a state of emergency.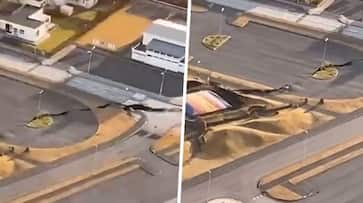 Iceland is currently grappling with heightened seismic activity, raising concerns about a potential volcanic eruption. The region has experienced over 2,000 small earthquakes in recent days, leading to fears of a volcanic event. Videos from the area depict houses shaking, and a viral clip shows a road near Grindavik splitting apart with steam and magma emerging from underground. The Icelandic Meteorological Office has indicated a "considerable" risk of eruption on or near the Reykjanes peninsula due to the substantial underground magma and its rapid movement.
The situation has prompted the evacuation of Grindavik, home to approximately 4,000 people. Residents have been allowed brief access to their homes to collect valuables after waiting in their cars for hours, with Icelandic authorities closely monitoring the situation.
The UK Foreign Office has issued travel advice, warning of the likelihood of a volcanic eruption. The advisory highlights increased seismic and volcanic activity on the Reykjanes peninsula, southwest of Reykjavik.
Iceland, with 33 active volcanic systems, has declared a state of emergency, establishing shelters and help centers in nearby towns. Vidir Reynisson, head of Iceland's Civil Protection and Emergency Management agency, noted a 15-kilometer-long fissure where an eruption could potentially occur.
Simultaneously, Mount Etna, one of the world's most active volcanoes in Italy, erupted on Sunday night, illuminating the night sky. Fortunately, the immediate surroundings of the volcano are uninhabited.
Last Updated Nov 14, 2023, 12:03 PM IST