Amid Israel-Hamas war, video of frustrated UK citizens beating up pro-Palestinian supporters goes viral
As the situation unfolds in Gaza, many individuals in the UK have voiced their concerns over the activities and behaviour of certain groups or individuals who align themselves with Hamas.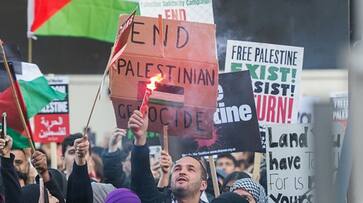 Pro-Palestinian demonstrators gathered in several cities across the United Kingdom, including London and Manchester, on Sunday to voice their support for the Palestinian cause amid the ongoing Israel-Hamas war in Gaza. In London, over 1,000 police officers were deployed as protesters marched from the BBC's New Broadcasting House to Downing Street. The protests come in the wake of the recent escalation in the Israeli-Palestinian conflict, ignited by an unprecedented attack by Hamas on Israel. Fighters from the Palestinian terrorist group entered communities near the Gaza Strip, resulting in a significant loss of life and taking hostages.
Also read: Israel PM Netanyahu convenes emergency cabinet, vows to 'demolish Hamas' (WATCH)
In the UK's capital, the Palestine Solidarity Campaign demonstration saw crowds waving Palestinian flags and displaying supportive placards as they marched towards Downing Street. However, amid the peaceful protests, there were reports of "small pockets of disorder" that included incidents such as flares, bottles, and fireworks being thrown at police. Amid the protests, a growing sentiment of frustration and concern has emerged among citizens, who are increasingly exasperated with the disruptions and chaos attributed to supporters of Hamas.
As the situation unfolds, many individuals in the UK have voiced their concerns over the activities and behaviour of certain groups or individuals who align themselves with Hamas. While freedom of expression and the right to hold differing viewpoints are important tenets of democratic societies, there is a growing sentiment that certain actions attributed to Hamas supporters have crossed boundaries and impacted the peaceful coexistence of residents in the UK.
"Enough is Enough. Fed up with the damage, disruptions and chaos created by Hamas supporters in UK, citizens giving back now. The Hamas supporters should abide by the law of the land where they live," wrote an X user along with a video of a scuffle that erupted during Sunday's protest.
The Metropolitan Police warned that individuals showing support for Hamas, considered a proscribed terrorist organization, or deviating from the designated route could face arrest. Several individuals were reportedly detained by the police during the protests, while one person was caught after throwing an object at a police van.
In an update on arrests, the Metropolitan Police reported a total of fifteen arrests, including offenses such as assaults on emergency workers and setting off fireworks in public places. Among those detained, eight individuals were arrested in the evening over these offenses.
Protests also occurred in other UK cities, including Liverpool, Bristol, Cambridge, Norwich, Coventry, Edinburgh, and Swansea. In Glasgow, thousands participated in an event organized by the Scottish Palestine Solidarity Campaign.
Also read: Thousands of Israeli soldiers gear up for ground operation in Gaza amid calls for civilian relocation (WATCH)
Amid the protests, UK Home Secretary Suella Braverman had previously urged police chiefs to consider whether the slogan "from the river to the sea, Palestine will be free" should be seen as an "expression of a violent desire to see Israel erased from the world," potentially constituting a "racially aggravated" public order offense in certain contexts.
The escalating conflict between Israel and Hamas has also seen a "massive increase" in antisemitic incidents in London, according to Met Police Deputy Assistant Commissioner Laurence Taylor. Prime Minister Rishi Sunak condemned the rise in antisemitism, emphasizing the importance of civilian safety while acknowledging Israel's right to defend itself from Hamas attacks.
Last Updated Oct 15, 2023, 6:45 PM IST