At least 50 killed in Israeli strike on refugee camp in Gaza, claims Hamas amid ongoing war (WATCH)
"More than 50 martyrs and around 150 wounded and dozens under the rubble, in a heinous Israeli massacre that targeted a large area of homes in Jabalia camp in the northern (Gaza) Strip," the health ministry in the Hamas-run Gaza Strip said in a statement.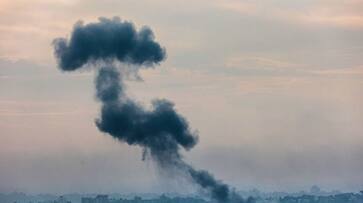 The Health Ministry in Gaza, which is controlled by Hamas, reported on Tuesday that at least 50 individuals lost their lives due to Israeli airstrikes in a refugee camp in the Palestinian territory. The ministry described the incident as a severe Israeli attack that targeted a significant number of homes in Jabalia camp in the northern part of Gaza.
Footage from the scene, viral on X, revealed the recovery of at least 47 bodies from the rubble following the strike on multiple houses within the camp. Onlookers were seen at the edges of two large craters, anxiously searching for survivors.
As of the time of reporting, the Israeli military had not issued an immediate comment regarding the airstrikes when approached by new agency AFP.
Earlier on the same Tuesday, the health ministry had stated that 8,525 individuals in Gaza had lost their lives since Israel initiated its bombing campaign on October 7.
This conflict began after Hamas militants from Gaza launched attacks on Israeli communities and army posts, leading to the loss of approximately 1,400 lives, according to Israeli officials.
Last Updated Oct 31, 2023, 9:39 PM IST