Asian Games 2023: Indian women's 10m air rifle team wins silver; Ramita Jindal bags bronze
In a brilliant display of talent at the Asian Games 2023, India has secured its place on the podium with a series of remarkable performances. The Indian shooting contingent, led by Ramita Jindal, claimed silver in the Women's 10m Air Rifle Team event and saw Ramita Jindal herself clinching an individual bronze.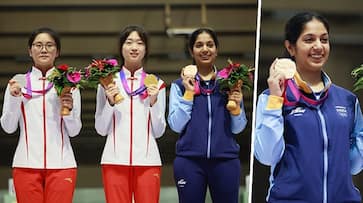 The Indian Women's 10m Air Rifle Team made a significant contribution by clinching the silver medal, while Ramita Jindal claimed an individual bronze. This achievement marked the beginning of India's medal tally for the day. Mehuli Ghosh, Ramita Jindal, and Ashi Chouksey formed an experienced trio that secured the women's team silver. Additionally, Ramita Jindal impressed with her individual bronze in the 10m air rifle event, shooting a commendable 230.1 in the finals.
Despite finishing second to China in the team category, all three Indian women shooters demonstrated exceptional skills and determination. Ramita, in particular, was a strong contender for the silver medal until a disappointing 9.9 on the 13th shot pushed her down the ranks.
Mehuli, another Indian shooter who made it to the eight-shooter final, finished fourth with a score of 208.43. The combined score of the trio earned them the silver, boosting the morale of the Indian contingent aiming to surpass their previous medal haul.
Also Read: Asian Games 2023: Learnt from last campaign, says Indian hockey skipper after 16-0 win over Uzbekistan - WATCH
In the qualification round, all three Indian shooters delivered strong performances, with Ramita and Mehuli earning spots in the individual final. Ramita, the world champion in the 10m air rifle junior event, showcased her resilience despite a momentary lapse in concentration.
This performance was particularly significant for Mehuli, who had high expectations following her recent successes in international events, including winning a bronze at the ISSF World Championship in Baku and securing a quota place for the 2024 Paris Olympics. Ramita's impressive showing added a twist to the competition and secured her a well-deserved spot on the podium.
Also Read: Asian Games 2023: Sharath Kamal's stunning comeback first India's Table Tennis team into quarterfinals
Last Updated Sep 24, 2023, 3:00 PM IST